Rwanda Visa for US Citizens: Application Process & Requirements [2023]
Despite its troubled past, the stunning landlocked nation of Rwanda in central Africa has achieved great strides. Rwanda, often known as the "land of a thousand hills," is one of the world's most spectacular nations, offering breathtaking landscape, friendly locals, and unique experiences.
The country is blessed with amazing biodiversity and amazing species that can be found in its mountains, montane rainforest, and expansive plains. The serene Lake Kivu shores, the verdant tea plantations, the majestic gorillas in the volcanoes National Park, and the vast plains of the Akagera National Park, which are teeming with wildlife, including lions, elephants, and giraffes, are all reasons to visit.
The relationship between the United States and Rwanda extends beyond diplomacy and trade, manifesting strongly in cultural exchanges and shared interests, particularly in the sphere of sports and entertainment. Basketball Africa League (BAL), a collaborative effort of the National Basketball Association (NBA) and the International Basketball Federation (FIBA), was inaugurated in Rwanda, signaling a significant development in Africa's sports sector.
A notable highlight was the participation of acclaimed American rapper J. Cole, who briefly played for the Rwanda Patriots BBC in 2021. His involvement brought global attention to the league and, by extension, to Rwanda. It spotlighted the country's evolving sports culture and its commitment to becoming a major player on the international stage.
Moreover, Rwanda is globally recognized for its remarkable wildlife, particularly the endangered mountain gorillas, making it a sought-after destination for American eco-tourists and wildlife enthusiasts. The country's political stability, safety, and swift economic development further make Rwanda an attractive destination for American entrepreneurs, investors, and tourists alike. J. Cole's BAL participation and Rwanda's spotlight in the sports world exemplify the potential for cultural exchange and mutual enrichment between the U.S. and Rwanda, adding another compelling reason for Americans to explore this dynamic East African nation.
To make it easier for you to plan your trip to Rwanda, we shall explore Rwanda visa for US citizens, making you aware of the application process and visa requirements. A comfortable and trouble-free visit to this magnificent location will be guaranteed by having a thorough understanding of everything pertaining to the visa. We will provide you all the information you need to get started on your Rwandan journey in the sections that follow.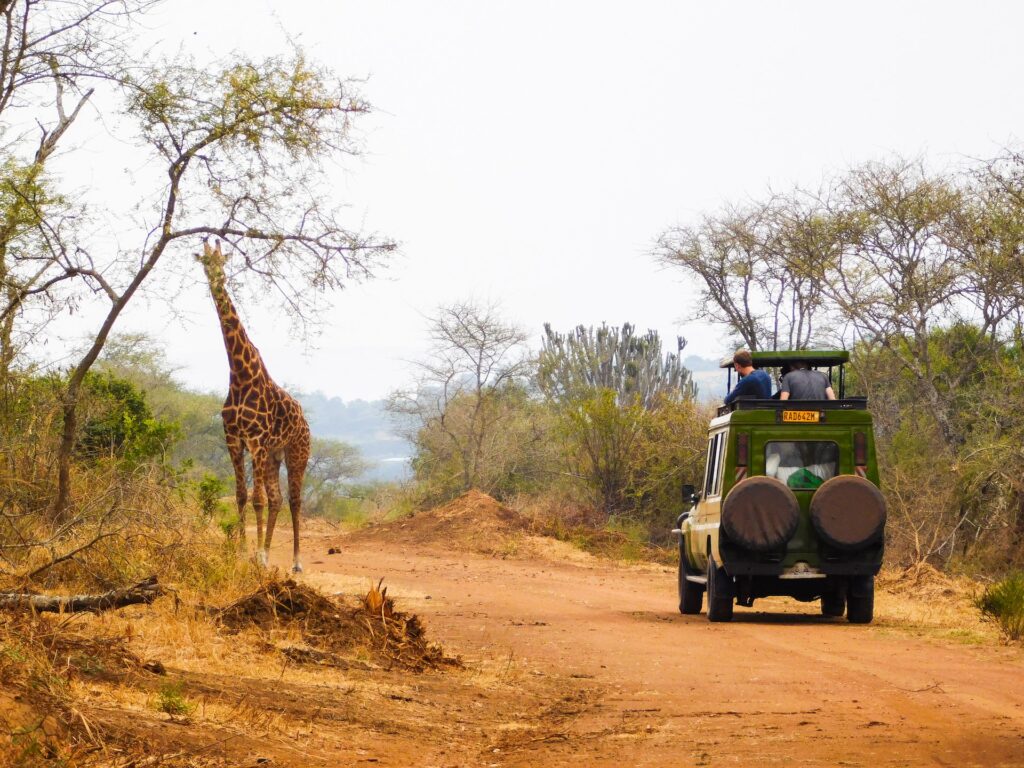 Do US Citizens Require a Visa to Visit Rwanda
Yes, Citizens of the United States of America are required to obtain a visa to legally enter Rwanda, according to the Rwandan government.
The good news is that U.S. citizens can obtain a visa upon arrival at Kigali International Airport and other land borders, or they can choose to apply online before their trip through the Rwanda Directorate General of Immigration and Emigration's website.
Rwanda eVisa Requirements
Passport: You will need a valid passport that has at least six months' validity from the date of your intended exit from Rwanda.
Passport-sized Photo: A digital, passport-sized photo of yourself is typically required. It should meet the standard requirements for a passport photo: it should be a recent photo, taken against a plain background, with your face clearly visible.
Travel Itinerary: You need to provide proof of your travel itinerary, including your confirmed flight booking showing your arrival and departure dates.
Accommodation Details: Proof of accommodation is required, such as a hotel reservation or a letter from your host in Rwanda.
Payment: You will need to pay the eVisa fee.
Rwanda Visa on Arrival Requirements
Valid Passport: A passport with at least six months validity from your intended departure date from Rwanda.
Return Air Ticket: A return air ticket to demonstrate your intention to leave the country after your visit.
Proof of Sufficient Travel Funds: Evidence of sufficient funds for the duration of your stay in Rwanda. This can take the form of cash, bank statements, or credit card statements.
Accommodation Proof: Proof of where you'll be staying during your visit to Rwanda. This could be a hotel reservation or a letter from a host.
How to apply for a Rwanda eVisa
1. Visit the Official Website: Visit the official website of Rwanda Immigration (https://irembo.gov.rw/home/citizen/all_services). Under "Immigration And Emigration", look for "Visa Application" and click on it. On the pop up, select "Visa application" under Request Type and click on "Apply". If you are in Rwanda and wish to extend your visa, then select the "Renew Visa" option.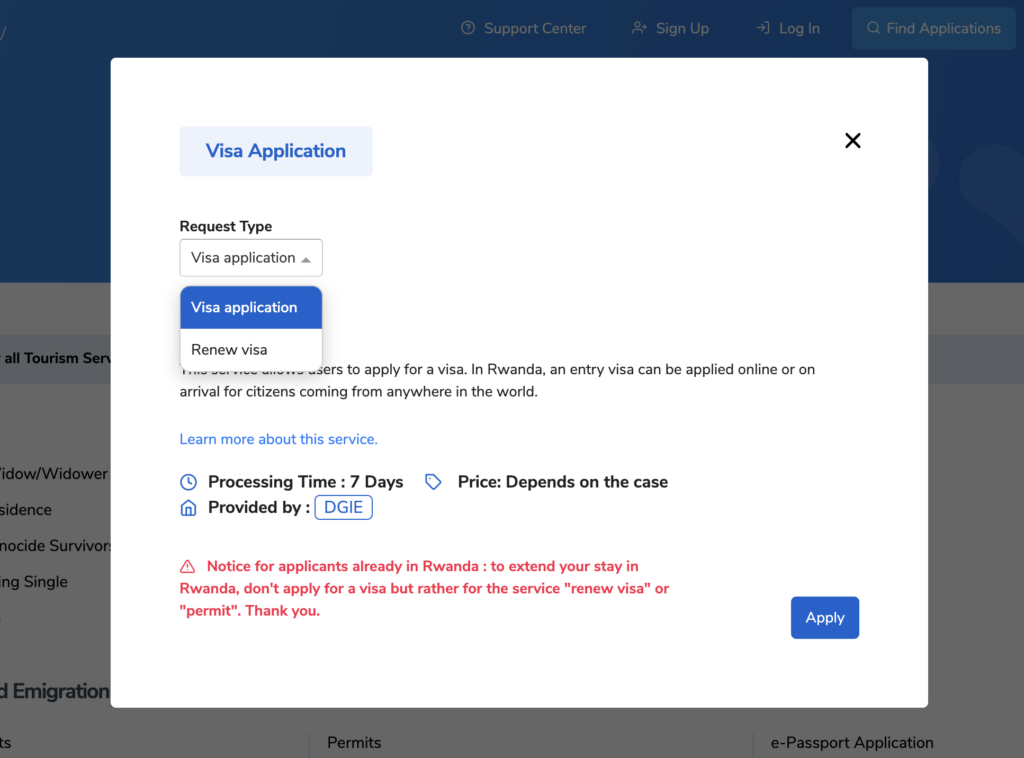 2. Select Visa Type and Fill the Application Form: On the "Visa Type" selection field, there several types of visa options. If you are going for holidays, it is best to select the "V1 Holidays" single entry or multiple entry option depending on your needs. The visa fee will be shown next to the selected option.
Fill it out the "Demographic Details" section on the form with the required information, such as your full name, date of birth, profession/occupation, place of birth, parents names, nationality and current residential address.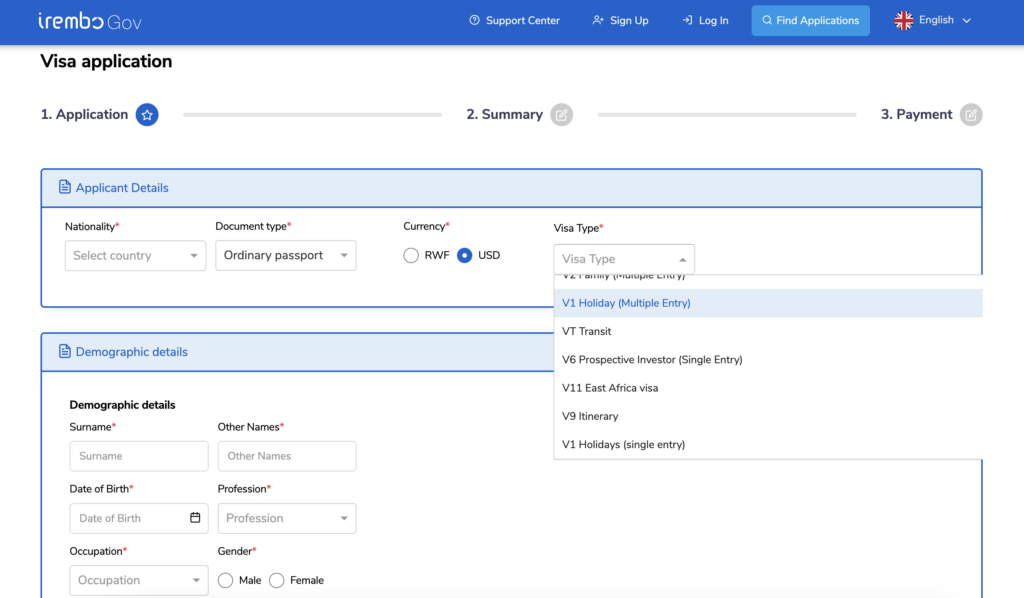 3. After that, you are to fill out the "Request & Travel Details" section.
In this section of the application, you are required to detail your anticipated address during your stay in Rwanda. This could be a hotel, an Airbnb, or any other form of accommodation. You will also need to enter specific information from your passport, including your passport number, its issue date, and expiry date.
Furthermore, you should provide your anticipated entry point into Rwanda, as well as your planned arrival and departure dates. An additional text field in this section prompts you to supply more specific details about your upcoming trip to Rwanda.
There's a checkbox to indicate whether this is your "First time in Rwanda," with the options being "Yes" or "No". If you select "No", indicating that you have previously visited Rwanda, you'll be prompted to provide further details, including the date of your last visit and the duration of your stay.

Additionally, you are to input your correct telephone number and email address under "Contact Details". This will enable the Rwanda immigration authorities to establish contact with you when necessary during the visa application process.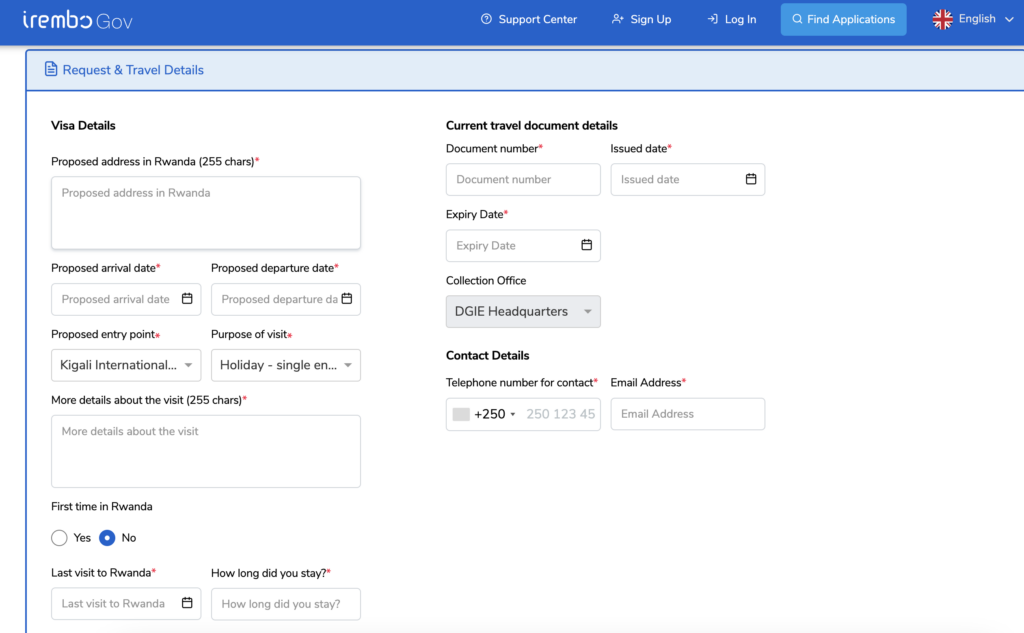 4. Upload Required Documents: You'll be asked to upload several documents in the "Attachments" section. This typically includes a scanned copy of your passport, a passport-sized photograph and application letter. The required document to upload depends on the visa type you selected. If you selected the "V1 Holidays" visa type, you will only be asked to upload your passport bio data page (in PDF).

Remember, the file size and format of the documents you upload must meet the specifications stated on the application form.
Attach all the required documents in the right format and size.
Photo with white background (Format: JPG, Size: 200KB)
Copy of passport Biodata page (Format: PDF, Size: 500KB)
Application letter (Format: PDF, Size: 500KB)
5. Pay the Visa Fee: After you've filled out the form and uploaded all the necessary documents, you'll need to review your application and pay the eVisa fee. This can typically be done using a credit or debit card. The visa fee can vary depending on the type of visa you are applying for.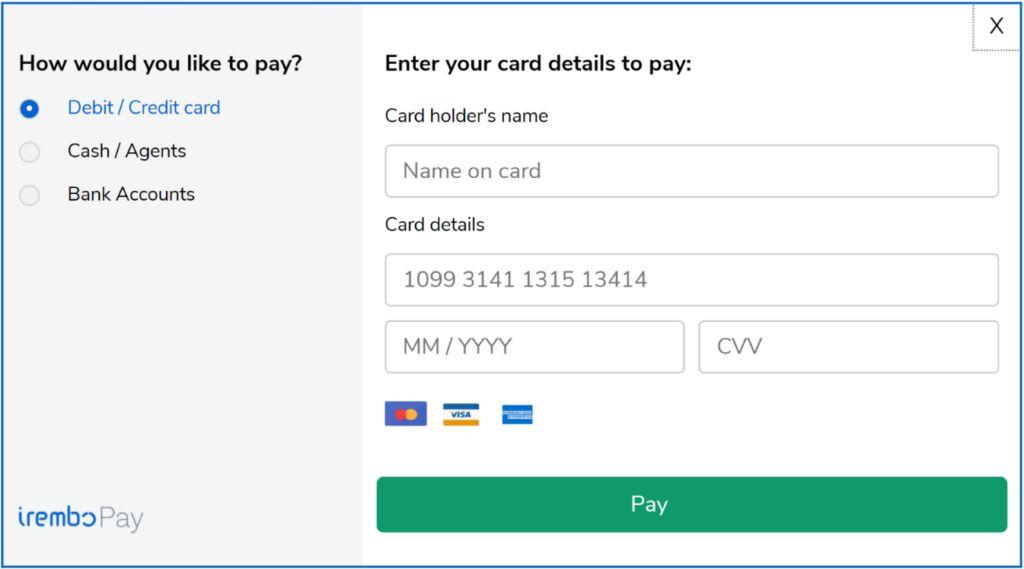 6. Submit the Application: Once you've paid the visa fee, you can submit the application. You should receive an email confirming that your application has been received.
7. Wait for Approval: After submitting your application, wait for it to be processed. The processing time can vary, but it typically takes around 3 to 7 days. You'll receive an email notification once your eVisa has been approved.
8. Print Your eVisa: Once you receive your approval email, print out a copy of your eVisa. You will need to present this printed eVisa along with your passport upon arrival in Rwanda.
How to apply for Rwanda Visa on Arrival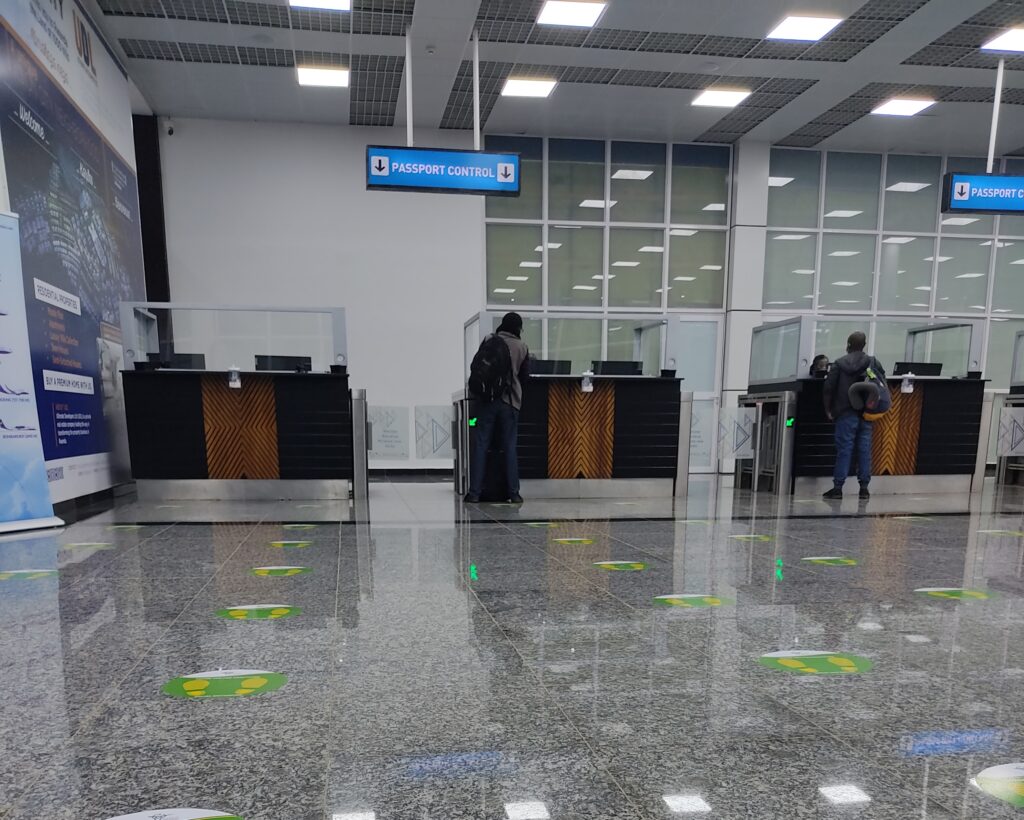 Arrival at Kigali International Airport: Upon landing, proceed through the arrivals gate.
Find the 'Passport Control' or "Visa Payment & Passport Control" counter.
Join the Queue: Once you've located the counter, join the queue and wait patiently for your turn.
Interacting with the Immigration Officer: When it is your turn, you will interact with an immigration officer. They will ask you to present several documents. You might also be questioned about your purpose for visiting Rwanda.
Present the Required Documents: Hand over your valid passport, return air ticket, proof of sufficient travel funds, and accommodation proof to the officer. Ensure that all your documents are well-organized to make this step swift and smooth.
Answer the Officer's Questions: Be prepared to answer the officer's inquiries about your visit to Rwanda. Respond clearly and confidently.
Biometric Data Submission: At this point, you will be asked to submit your biometric data. This typically includes providing fingerprints and undergoing a face scan or photo capture.
Payment of Visa Fee: If everything is in order, you'll then be required to pay the visa fee. As of my last update, this fee was $50 USD, but the current fee should be confirmed before travel.
Receive Your Visa: Once all these steps are successfully completed and the officer is satisfied with your documentation and responses, your passport will be stamped. This indicates the successful completion of your visa on arrival process.
Keep in mind, the visa on arrival is valid for 30 days.
Do children need a visa to visit Rwanda
Yes. There must be a complete visa application for each child and certified copy of their birth certificate.
How long does it take a US citizen to get a Rwanda visa?
The processing period for a visa to Rwanda is three to five working days. If any information or documentation is lacking, the processing time for visas may be extended.
How long can a US citizen stay in Rwanda with a tourist visa?
Depending on the type of visa obtained, there are different limitations on how long you can stay in Rwanda with one. You may stay for 30 days with the single-entry visa. The multiple entry visa, however, permits you to stay for 90 days.
How long can you stay in Rwanda with Visa on arrival?
The Rwanda tourist visa obtained on arrival typically permits a stay of up to 30 days.
Rwanda Visa Types
Here are all the Rwanda visa types you can apply for:
Tourist visa: A tourist visa is valid for travel for pleasure, a vacation, or sightseeing. It's possible to extend this visa.
Business visa: A prospective investor, businessperson, or trader who wishes to travel to Rwanda and look into business opportunities will be granted this category of visa.
Conference visa: Applicants who have to travel to Rwanda to attend a conference meeting are granted a conference visa.
Transit visa: Foreign nationals requiring a visa to transit through Rwanda as part of an ongoing trip are given transit visas. Applicants must have a confirmed onward reservation from Rwanda to a third country or alternative plans that would allow them to leave Rwanda within 72 hours of arrival. Only extreme conditions may result in the extension of a transit visa. A fresh transit visa will be provided in such unusual cases for up to an additional 72 hours.
Medical Treatment visa: Anyone who needs medical treatment/consultations in Rwanda can obtain this visa.
Study visa: International students who wish to attend school in Rwanda are granted a study visa. You must first be accepted into a Rwandan educational institution in order to be granted a Rwandan student visa.
Diplomatic: This category of visa must be granted to a diplomat traveling on business. Dependents may travel with the visiting diplomat, but only if it is necessary for the official visit. Otherwise, a different visa may be given for dependents. This passport is good for two years.
Rwanda Visa Fees
Here are the visa types and fees for Rwanda
| | | |
| --- | --- | --- |
| Visa Type | Validity | Fee |
| Single Entry | 30 days | $50 USD |
| Multiple Entry Visa | 90 days | $70 USD |
| Transit Visa | 72 hours | $30 |
| Diplomatic Visa | 30 days | Free |
Can you extend your Rwanda visa
A visitor's visa may be extended for a total of 180 days. For an extension, applicants must submit an application to the Director General and applications must be submitted while the present visa is still valid.
What is the address of the Rwanda Embassy in the US
The address of the Rwanda Embassy in the US is located at:
1714 New Hampshire Avenue 20009,
Washington, United States.
If you need more information you can visit the official Rwanda embassy website in the United States or contact the embassy for more information.
COVID-19 Requirements for Rwanda visa
Rwanda has dropped the requirement for presenting a negative COVID-19 test upon arrival. Additionally, filling out a Passenger Locator Form is no longer required.
Travel Tips
Food: The mix of tastes in Rwandan cuisine makes it a fascinating experience for American tourists. Plantains, beans, and sweet potatoes are common ingredients in Rwandan cuisine that are prepared into a variety of mouthwatering dishes. The national food "Ugali," a thick cornmeal porridge, is a must-try treat that goes excellently with hearty stews and grilled meats. Visitors could try "Brochettes" – skewered meats such beef, goat, or chicken that are grilled to perfection and served with spicy sauces that lend an added dose of flavor.
Currency : The Rwandan Franc (RWF) is the country's legal tender. It is advised to exchange your money into Rwandan Francs at the airport or at authorized exchange offices in major cities when you arrive. Although most hotels, restaurants, and bigger establishments in urban regions accept credit and debit cards, it is a good idea to have extra cash in hand for smaller vendors, neighborhood markets, or rural places where card acceptance may be restricted. Major cities and towns have ATMs where you can get cash in the local currency. Inform your bank of your travel intentions in advance to confirm that your cards will work abroad and to find out if there are any fees or restrictions.
Tourist Destinations : American tourists will be delighted by Rwanda's amazing tourism attractions. Volcanoes National Park, a must-see destination known for its memorable gorilla trekking experience, is one of them. The park's volcanic vistas and lush woods make it more incredible to see the gorgeous mountain gorillas in their native home. Nyungwe Forest National Park is another popular trip; it's a biodiverse refuge for primate and environment lovers alike. Chimpanzee trekking excursions are available to thrill-seeking tourists, and a breathtaking canopy walk offers a wonderful view of the jungle. In addition, there are hiking routes in the park that lead to spectacular waterfalls, rare bird species, and other fascinating wildlife encounters.
Conclusion
In conclusion, obtaining the proper visa for an American citizen visiting Rwanda is a simple and manageable process. You may guarantee a simple and trouble-free trip to this fascinating African nation by adhering to the advice and information presented in this article. Take advantage of the chance to experience the growth of this nation, get to know its friendly and inviting people, and make lifelong memories.