Kuwait Visa for US Citizens: Application Process & Requirements [2023]
As international travel becomes more widely available, more and more people are discovering the fascinating cultures and beautiful places our planet has to offer. Kuwait, a gem in the Arabian Gulf known for its rich history, lively culture, and magnificent surroundings, is one of these fascinating locales. Understanding the application process and requirements of the Kuwait Visa for US citizens is essential if you are considering a trip to this oil-rich captivating nation in order to guarantee a simple entry and an amazing journey.
The United States and Kuwait share a rich history and strong ties that create a welcoming environment for Americans wanting to visit Kuwait. For history and culture enthusiasts, Kuwait offers a wealth of unique experiences such as the Tareq Rajab Museum, the Kuwait Towers, and the Grand Mosque, offering glimpses into both the country's historical past and vibrant present. Moreover, Kuwaiti people are well-known for their hospitality and friendliness, particularly towards Americans, due to the enduring diplomatic relationship between the two nations. This warm reception ensures a pleasant and memorable stay for American tourists.
Furthermore, the U.S.-Kuwait relationship extends to educational and cultural exchanges, resulting in English being widely spoken in Kuwait, making it easier for American visitors to communicate and navigate the country.
In this article, we will give you a thorough rundown of Kuwait's visa procedures for Americans. We will discuss the various visa options, the application procedure, and the crucial paperwork you must gather. We will walk you through the procedures to ensure your entry into this alluring Arabian country, whether you intend to travel to Kuwait for leisure, business, or to reunite with loved ones.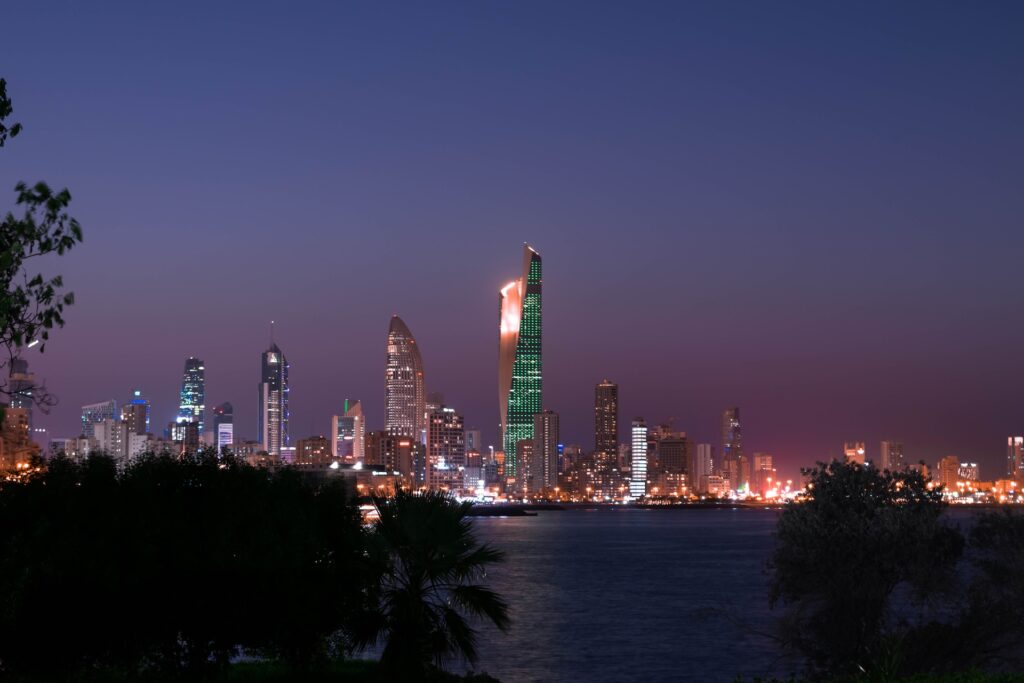 Do Americans Need a Visa to Visit Kuwait?
American citizens need a visa to visit Kuwait. However, they could obtain a visa on arrival or apply for an e-Visa before traveling.
The Visa on Arrival program allows U.S citizens to get their visa directly upon landing in Kuwait.
The e-Visa program is an online system for the application of entry visas to Kuwait. Travelers can apply and pay online, and receive their visa electronically.
Kuwait Visa Requirements
You need a passport with at least another six months of remaining validity and at least two blank pages in order to apply for a visa to Kuwait. If you are submitting an online application, you must scan and upload your passport's bio page. To pay the visa fee, you also require a credit or debit card.
Depending on the purpose of your trip, you may also be required to submit the following documents:
Recent passport photo with a white background.
Return air ticket.
Proof of accommodation in Kuwait.
Proof of sufficient financial means.
Letter of invitation from your relative/friend.
Letter of sponsorship from a business partner.
How to apply for a Kuwait Visa for US Citizens
The Government of Kuwait provides U.S. citizens with convenient options for obtaining a visa: the eVisa and the Visa on Arrival. These alternatives offer flexibility and ease, allowing travelers to choose the method that best suits their travel plans and personal preferences.
How to Apply for a Kuwait eVisa for US Citizens
You can apply for an online visa or eVisa to Kuwait by filling out a form with your personal information and information on relevant travel documents. Please be aware that the Kuwait Online visa is directly linked to your travel document (i.e., passport), thus it is important that the information submitted matches exactly what is on the passport, which must be valid for at least another six months when entering Kuwait. The Kuwait Online Visa has a 90-day single-entry validity period.
Required Documents: Prepare your documents.
Application Form: Visit the official Kuwait eVisa website https://evisa.moi.gov.kw.
Click on the 'English' option at the top of the site if the page isn't already in English.

Then, click on 'Apply for Tourist e-Visa'. You will see a list of supported countries including the rules and regulations. Scroll down and click on the 'Start' button to begin your eVisa application.
Fill in Personal Details: Fill in the requested personal details such as full name, nationality, date of birth, and passport number. The information should be as it appears on your passport.
Travel Information: You'll be asked for details about your travel plans, such as your arrival date, accommodation details, and the purpose of your visit.
Review and Submit: Review all of the information that you've entered to ensure that it's correct. Once you're sure, submit your application.
Payment: You will be prompted to pay the visa fee using a credit or debit card. Make sure you have a card handy that allows international transactions.
Confirmation: After payment, you should receive a confirmation of your application via email.
Processing: Your application will be processed, and this usually takes a few business days. You can check the status of your application on the same eVisa website.
Approval: Once your eVisa is approved, you'll receive an email with the eVisa attached as a PDF. Print out a copy to present to the immigration officer when you arrive in Kuwait.
The Kuwait immigration aims to respond to visa applications within 2 business days. It is advised to apply for your Kuwait Visa ahead of time to avoid any unnecessary delays.
How to apply for Kuwait Visa on Arrival (VOA) for US Citizens
The Kuwaiti government allows American citizens to obtain their visas at the airport when they arrive for their trip to Kuwait. If you're visiting for a short period and don't plan to work, you can secure a visa upon arrival. This visa permits a stay in Kuwait for up to three months. Only travelers arriving by air are eligible for the Kuwaiti visa on arrival.
You must have a valid passport (valid for at least six months), a plane ticket, and the appropriate visa fee. Additionally, you might need to provide:
Here's how you can apply for a Visa on Arrival in Kuwait:
Arrival: Upon arriving at a Kuwaiti airport, look for signs directing you to the Visa on Arrival section. This is typically located in the immigration area.
Form: Collect the Visa on Arrival application form from the designated counter. Fill out this form completely and accurately, ensuring all your personal and travel details match what's in your passport and other travel documents.
Documents: Be ready with your necessary documents. You'll need a valid U.S. passport with at least six months' validity and a confirmed return or onward ticket. They might also request proof of accommodation and sufficient funds for your stay in Kuwait.
Payment: You'll need to pay the Visa on Arrival fee. The fee is approximately 3 Kuwaiti Dinars ($10 USD). Payment methods vary, but it's usually payable in cash or card at the counter.
Submission: Submit your filled-out application form, passport, and any other required documents at the designated counter, and make the necessary payment.
Approval: The immigration officer will process your application and, if approved, stamp a visa into your passport.
Do children need a visa?
Every adult traveler to the Republic of Kuwait must submit an e-Visa application using their individual account. Parents can submit applications on behalf of their children through their accounts.
How long does it take to get a Kuwait visa?
Applying for a Kuwait eVisa is a straightforward process, but it's essential to take into account the processing timeframes. According to the Kuwait eVisa portal, all submitted applications are responded to during working days and official working hours. This means that if you apply over the weekend (Friday and Saturday in Kuwait) or on a public holiday, the processing of your application will likely be delayed.
Despite this, the Kuwaiti authorities make substantial efforts to respond to applications within two working days.

Once your tourist e-Visa application has been approved, you'll be notified via the email address you provided during the application process. So, do remember to keep an eye on your inbox (and your spam folder, just in case) for this important communication!
When it comes to obtaining a Visa on Arrival in Kuwait, the process is generally quick and efficient, often taking just a few minutes to a couple of hours, depending on the volume of arrivals and the promptness of the immigration staff. However, during peak travel times, there might be longer waiting periods. Do note, the ability to secure a Visa on Arrival can depend on current immigration policies, so it's always advisable to verify the most up-to-date information from reliable sources before your journey.
How long can a US citizen stay in Kuwait with a visa?
If you are traveling to Kuwait with a valid tourist eVisa, you are allowed to stay in the country for a maximum of 90 days (approximately three months). However, keep in mind that your eVisa is only valid for 30 days from the date it was issued, and you can only enter Kuwait once during this 30-day period. Essentially, this means that you must enter Kuwait within 30 days of your eVisa being issued, but once you've entered, you can stay for up to 90 days.
Overstaying beyond your permitted 90 days will result in a fine. For each day you overstay, you'll be fined KD 10, which is roughly equivalent to $30. Please note, if you incur an overstay fine, you will not be allowed to leave the country until you have paid the fine in full. Always ensure you adhere to your visa's validity to avoid any unnecessary complications during your stay.
Is There Visa on Arrival?
Yes, U.S. citizens are eligible for a Visa on Arrival in Kuwait. Upon arriving at a Kuwaiti airport, American travelers can head to the designated counter in the immigration area to fill out the application form and provide the necessary documents. This generally includes a valid U.S. passport with at least six months' validity and a confirmed return or onward ticket.
Types of Kuwait visa
Kuwait Tourist Visa: This is a short-term visa issued either online or on arrival
Kuwait Business Visa: Business travelers who have a sponsor in Kuwait (the company they will visit) are granted this visa.
Kuwait Visit Visa: Foreign nationals who have a friend or relative in Kuwait who is willing to host them while they are there can apply for this type of visa.
Kuwait Work Visa: You will require an employer that can submit a work permit application to the Kuwaiti Ministry of Labor in order to obtain a work visa for Kuwait. The permit must first be approved by the Ministry of Interior before you may apply for a visa at a Kuwaiti embassy.
Kuwait Family Visa: The spouse and dependent children of Kuwaiti citizens are eligible for a family visa for Kuwait.
Kuwait Student Visa: For international students who have been accepted into a Kuwait education institution.
Kuwait Transit Visa: Applying for a transit visa to Kuwait is possible online or at an embassy. A confirmed onward ticket and a current visa for the intended travel location are required.
Can you extend your Kuwait Visa?
Before your visa expires, you can apply to extend your stay in Kuwait through the Kuwait Immigration Department online.
What are the costs the Kuwait Visa?
The cost of a Kuwait eVisa or online visa for tourists is 3 KWD which is approximately $10 USD for the application fee and around $1 USD as a service charge, so the total cost will amount to $11 USD.
Do Americans need Kuwait transit Visa?
Citizens of the United States of America do not need a transit visa for Kuwait if they do not leave the airport and their layover is less than 24 hours.
However, if you plan to leave the airport and stay in Kuwait for a period of time, regardless of how short, you would typically need to apply for an appropriate type of visa.
What is the Address of the Kuwaiti Embassy in the US?
The Embassy of the State of Kuwait is located at: 2940 Tilden Street, NW, Washington, DC 20008.
Is Kuwait safe for US Citizens?
The US government provides travel advice for its citizens through the Department of State travel advisory website. It's recommended to check this resource for the most current information, as the situation can change due to various factors, including political stability, crime rates, and health risks such as COVID-19.
Kuwait is generally considered a safe country for Americans.
The United States Gov't warns its citizens to avoid traveling to the desert region near the border with Iraq due to the prevalence of unexploded ordnance. It also warns its citizens to exercise increased caution in the Jeleeb Al-Shuyoukh area in Kuwait City due to crime.
Precautions such as avoiding unnecessary travel at night, keeping valuable items secure, and being aware of your surroundings can enhance your safety.
What are the Covid-19 Requirements?
COVID-19 vaccination proof or a negative COVID-19 PCR test is not required for entry into Kuwait.
Interesting Facts About Kuwait
Kuwaitis are a minority in their own country.
The official language of Kuwait is Arabic.
The Kuwaiti Dinar is the most valuable currency in the world.
Kuwait official religion is Islam.
Kuwait has no renewable freshwater resources.
Travel Tips for US Citizens visiting Kuwait
Food : When dining in Kuwait, be sure to try regional specialties like falafel, harees (a porridge made of wheat and meat), and machboos (spiced rice with meat). Additionally, keep in mind that alcohol is not easily accessible, so it is preferable to respect local traditions and refrain from drinking it in public.
Culture :It's crucial to respect local customs and culture when traveling to Kuwait. Consider wearing modest clothing, especially in public, and be aware of traditional values. Furthermore, it is regarded courteous to extend a cordial handshake when meeting someone and to accept offers of tea or coffee as a sign of hospitality.
Tourist attractions : There are several tourist attractions in Kuwait worth seeing. Be sure to visit well-known sites like the Grand Mosque, the Liberation Tower, and the Kuwait Towers, as well as cultural hubs like the Souq Mubarakiya and the Sheikh Jaber Al Ahmad Cultural Centre.
Currency : The Kuwaiti Dinar (KWD) is the currency accepted in Kuwait. It is advised to convert your money into Kuwaiti Dinar at banks or authorized exchange offices, and it is usually a good idea to have some cash on hand for smaller businesses that might not accept credit cards.
Relationships and LGBTQI+ concerns are governed by rigorous regulations in Kuwait. Same-sex relationships and posing as the other sex are forbidden. The various gender identities are not recognized in Kuwait. Unmarried couples are not allowed to live or stay together in hotel rooms. Male and female public demonstrations of affection are prohibited as well.
In the desert and on certain beaches, Kuwait has unexploded weapons, including landmines. Keep to well-traveled routes. On beaches, avoid picking up odd objects.
Closing Thoughts
If you enjoyed our Kuwait Visa for US Citizens guide, you may want to check out our South Africa Visa for US Citizens guide too.
American nationals intending to go to Kuwait must abide by Kuwait's visa rules, which are crucial safeguards for the country's safety and security. American travelers can confidently set out on their trip to Kuwait, ready to explore its cultural heritage and natural beauty, by being aware of and satisfying the specific visa requirements, which include obtaining the correct visa type, supplying supporting documents, and adhering to the application procedures.