Azerbaijan Visa for US Citizens: Application Process & Requirements [2023]
Azerbaijan is located at the crossroads of Eastern Europe and Western Asia and has a population of more than ten million. From its vast national parks to the calm, warm water of the Caspian Sea, and from Yanar Dag, the burning mountain, to the Flame Towers in Baku, Azerbaijan has a wealth of natural attractions and modern architecture that will surely leave an indelible impression on any traveler who travels to the country.
If you're a US citizen who wants to visit Azerbaijan for the first time but you're not sure of what to do, you've come to the right place. You will learn everything you need to know about Azerbaijan's tourist visa policy, including the requirements, processing times, fees, and much more useful information about this beautiful country, through this guide, which is curated for US citizens planning to visit Azerbaijan.
Let's get started!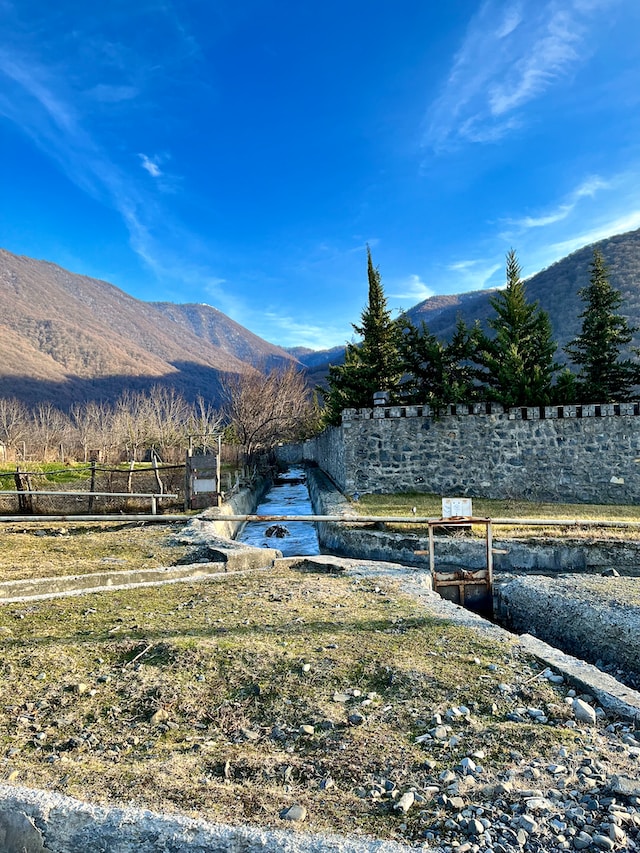 Do US Citizens Require A Visa To Visit Azerbaijan?
Yes. All US citizens must have a visa to travel to Azerbaijan. For those who wish to visit Azerbaijan for tourism and recreation, it is possible to apply for the Azerbaijan tourist visa online and be on a plane to the country in a matter of days.
Azerbaijan Tourist e-Visa: What Is It?
The Azerbaijan Tourist e-Visa, also known as the ASAN Visa, is a multi-purpose visa that allows visitors to enter Azerbaijan for a variety of reasons, including tourism. The visa is valid for 90 days. However, holders are only permitted to stay in the country for a maximum of 30 days.
The Azerbaijan e-Visa is available to people from about 95 countries, including Americans. You don't need to make an appointment at the embassy; the entire application process for the visa is online. You will be notified via email once your application has been accepted.
Foreign nationals with the tourist e-Visa may enter the country for a number of purposes, such as tourism, business, medical care, or involvement in charitable or sporting events. You cannot engage in paid labor with the visa.
Keep in mind that the Azerbaijan e-Visa only allows for a single entry into the country. If you wish to come back into the country after leaving it, you will need to submit an application for a new e-Visa.
Note: In accordance with the Azerbaijan immigration policy, visitors who plan to stay in Azerbaijan for more than 15 days must register with the State Migration Service within 10 days of arrival, including if they change residence. It could be done online via the migration service website (www.migration.gov.az/en) or by applying directly to regional migration departments. Registration is free.
US passport holders who meet Azerbaijan's e-Visa requirements can apply online quickly. Those who want to visit Azerbaijan for reasons not covered by e-Visas or stay longer than 30 days must get the required visa through the Azerbaijan embassy or consulate.
Azerbaijan eVisa requirements for US citizens
To apply for the Azerbaijan e-Visa online, you will need:
Valid Passport: You must have a valid passport. The passport should have at least six months' validity from the date of your intended departure from Azerbaijan.
Accommodation Details: You may be asked for information about where you will be staying in Azerbaijan, such as a hotel booking or Airbnb.
Email Address: You will need an email address, as the e-Visa will be sent to you digitally.
Payment Method: You'll need a credit or debit card to pay the e-Visa fee.
How to apply for Azerbaijan visa for US citizens
US citizens are able to apply for the Azerbaijan e-Visa online in a simple and straightforward process that should take no more than 20 minutes.
Step1: Visit the Website: To begin the process, visit the Azerbaijan e-Visa online portal at https://evisa.gov.az/. Click on the "Single entry visa" or "Application" button to start your application.
Step 2: Begin by selecting your country of nationality from the drop-down options. Next, identify the type of passport you possess. In most cases, this will be an "Ordinary passport". After correctly completing the captcha verification to ensure you're not a robot, proceed by clicking the "Continue" button.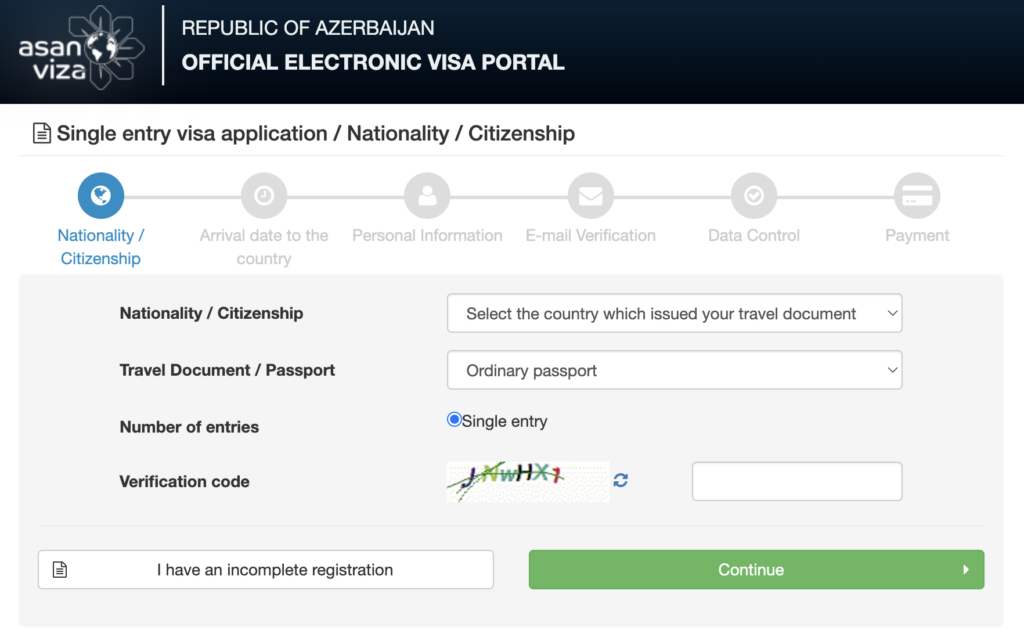 Step 3:
The following stage requires you to determine and specify your intended purpose of visit. Available options include:
Tourism
Business trip
Science
Education
Labor
Culture
Sports
Humanitarian
Medical Treatment
Personal trip
Official trip
Subsequently, select the preferred processing period for your visa. The standard option processes your visa within three business days and incurs a total fee of $25 ($20 for the visa and $5 as a service fee). However, if you're in a hurry, there's the "Urgent" option that guarantees your visa in just three hours. Do bear in mind, this speed comes at an extra cost – the service fee rises to $40.
Lastly, you'll need to specify the date from which you would like your visa to start counting from.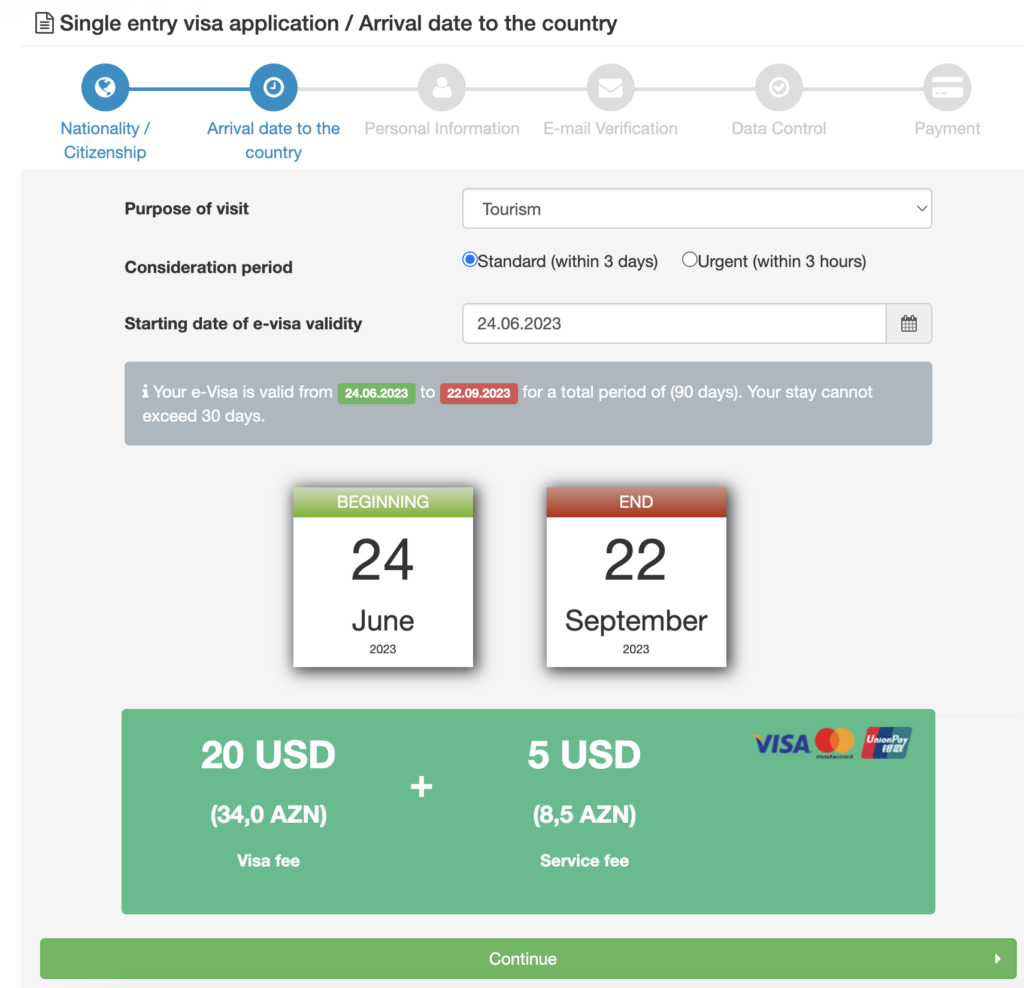 Step 4: You will then need to fill out the application form with your personal information. This will include your full name, address, date of birth, occupation, contact info, passport details, and intended address of stay in Azerbaijan.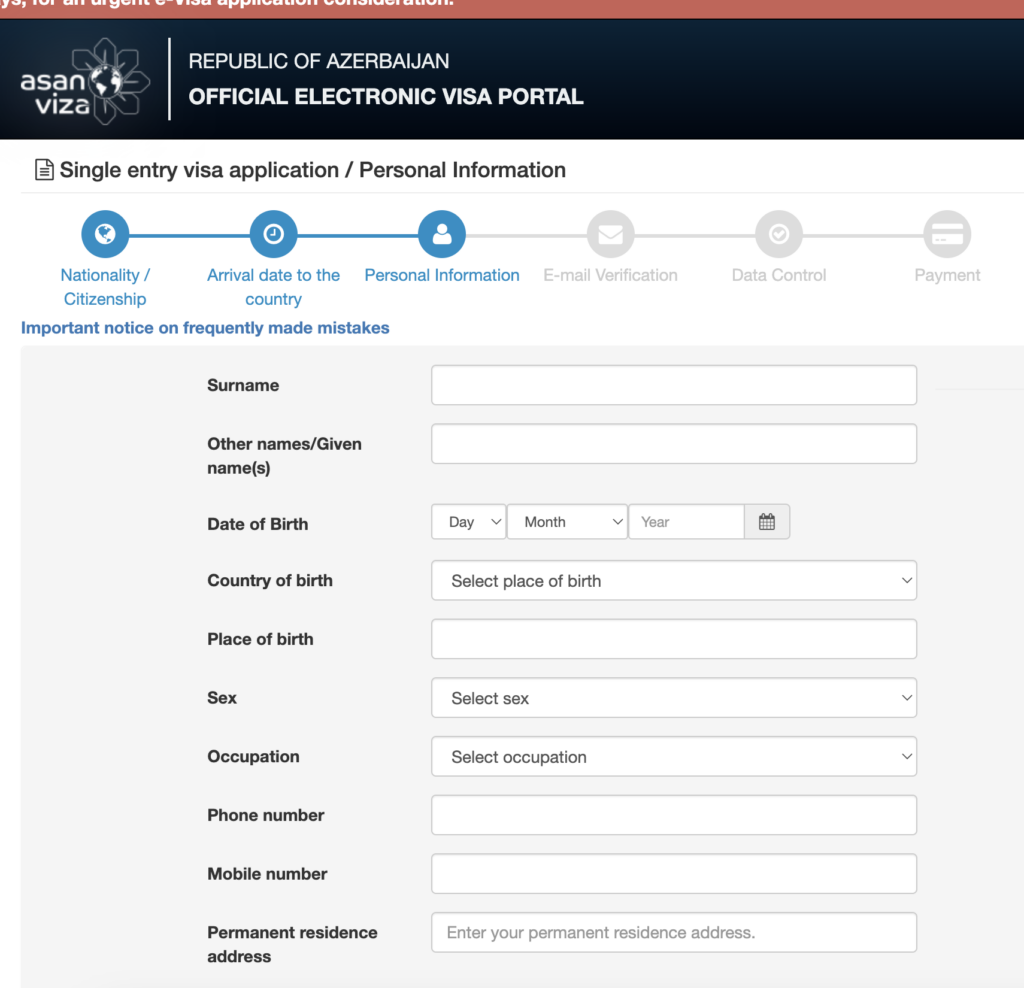 Step 5: Upload Passport Copy: At this point, you'll need to upload a digital copy of your passport. Make sure that the scanned image is clear, legible, and includes all necessary identification information.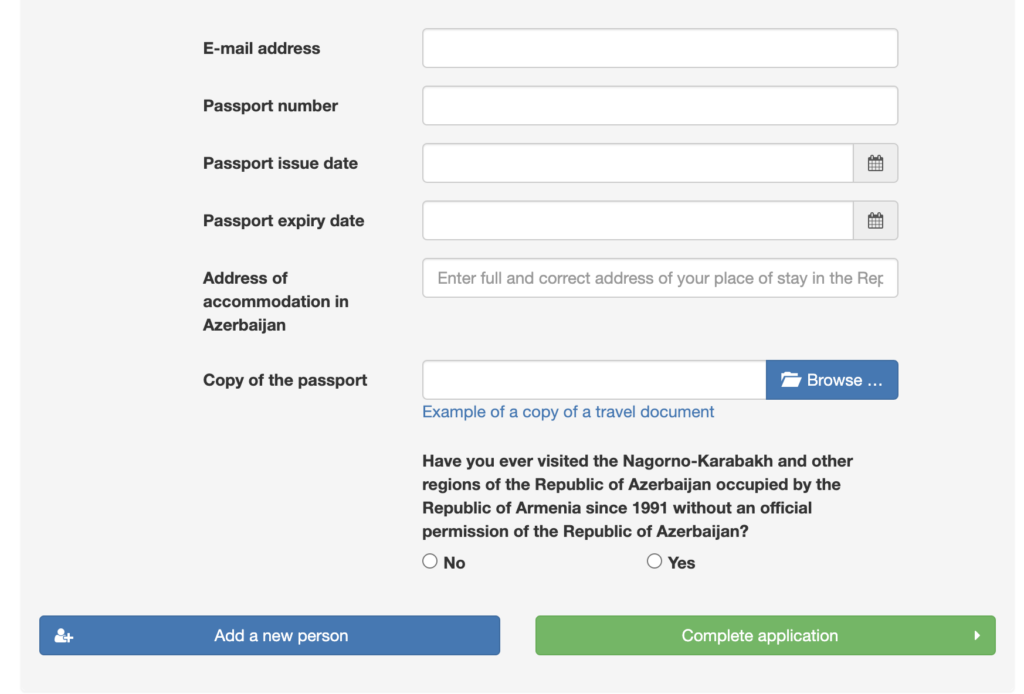 If you are not travelling alone, you can add more people to your application by clicking on the "Add new person" button.
Step 6: Confirm and Pay: Review all the information you've entered to make sure it's correct. Then, pay the e-Visa fee with your credit or debit card. The exact cost can vary and should be checked on the official website.
Step 7: Receive Confirmation: After your application and payment have been received, you'll receive a confirmation email. This does not mean that your visa has been approved yet – it's simply an acknowledgement that your application has been successfully submitted.
Step 8: Wait for Approval: Your e-Visa will be processed and, if approved, sent to you via email within the processing time you selected when filling out the application form. Ensure to print it out and bring it with you when you travel to Azerbaijan.
Step 9: Print Your e-Visa: Once you receive your e-Visa by email, print out a copy. You'll need to present this to Azerbaijani immigration officials upon arrival in the country.
Additionally, you'll have to present the passport you used to apply for the visa, as the approved visa will be linked to that passport. In the event that you lose your passport, you must reapply for the visa after obtaining a new one.
How Long Does It Take To Get An Azerbaijan e-Visa For US Citizens?
Azerbaijan allows two options for different processing times for the e-Visa during application: standard and urgent. If you select standard processing time, your visa will be issued to you within 3 working days. With urgent, you can expect your visa to be processed faster, which should take 3 hours.
We recommend that US travelers apply for the visa at least 7 business days before they plan to arrive in Azerbaijan.
What is the cost of an Azerbaijan e-Visa
The cost for an Azerbaijan e-Visa is $25 USD for a single entry. This is broken down into a $20 USD visa fee and a $5 USD service fee under the standard processing option, which typically processes your application within three business days.
Should you require urgent processing of your visa application, an option is available which expedites the process to approximately three hours. However, the service fee for this fast-track service is higher, costing $40 USD.
Will I be refunded if my application is unsuccessful?
No, e-Visa fees for Azerbaijan are non-refundable. But it's very unlikely that your visa application will be turned down unless you give wrong information or your passport is about to expire.
Can US citizens obtain Visa On Arrival in Azerbaijan?
Yes. US citizens can get a visa upon arrival in Azerbaijan (valid for 30 days), but only if they fly directly from New York City to Baku on Azerbaijan Airlines.
How long is Azerbaijan e-Visa valid for?
The visa is valid for 90 days from the date of issuance. US citizens with an Azerbaijan e-Visa can enter the country at any time during the 90-day period. The visa expires if you do not enter Azerbaijan within 90 days of its issuance.
How long can US citizens stay in Azerbaijan with the e-Visa?
Even though the visa is valid for 90 days, you can only stay in the country for up to 30 days. If you overstay, you may need to pay a fine and get an exit permit from the State Migration Service within 48 hours.
Can US citizens visit Azerbaijan several times with the same e-Visa?
No, the Azerbaijan e-Visas only allow for single entry. If you leave the country and want to return, you must apply for a new visa.
Can US citizens extend Azerbaijan e-Visa?
The e-Visa cannot be extended. However, if you want to stay longer than 30 days, you can apply to the Azerbaijan State Migration Service while you're still in the country before the 30 days elapse. Visit migration.gov.az/en for more information.
Do children also require an e-Visa to enter Azerbaijan?
Yes. Everyone, including children, needs to apply for an e-Visa to enter Azerbaijan. A minimum of two and a maximum of 10 persons can apply together. Parents can apply for their children through group applications.
Under 18 children who want to apply for the visa will need to present their birth certificate and permission of parents or a legal guardian.
Do US citizens need any Vaccinations to enter Azerbaijan
No. To enter Azerbaijan, no proof of vaccination or any immunity is required. Azerbaijan's covid restrictions have been lifted. Visitors are no longer required to take the COVID-19 test or show proof of vaccination to enter the country.
Azerbaijan Visas Types
If you want to visit Azerbaijan for official reasons or stay for an extended period of time, there are several other visas available. They are available as single-entry and multiple-entry visas and can be requested from the embassy or consulate of Azerbaijan. These are:
Official Visa
Business Visa 
Science or Education Visa
Medical Visa
Private Visit Visa
Labor Visa
Humanitarian Visa
Cultural and Sport Visa
Azerbaijan Travel Tips For Americans
Language: The majority of the population of Azerbaijan speaks Azerbaijani, which is also the country's official language. Other languages spoken there include Russian, Turkish, Armenian, and English. The country's use of English is steadily growing, and universities there also offer English-taught programs.
Weather: Azerbaijan has a very diverse climate due to its location between the Caspian Sea (to the east) and the Caucasus Mountains (to the north). Temperatures in the mountainous regions are usually lower than those along the Caspian Sea coastline. Azerbaijan's summers are hot, autumn is cool, winters are cold and can drop below freezing in some regions, and spring is mild and pleasant with few temperature fluctuations. The best time to visit Azerbaijan depends on your reason for visiting. Generally speaking, the country offers plenty of tourism opportunities all year.
Safety: Azerbaijan has a low crime rate and is a very safe country to visit. Most of the crimes that are reported are burglaries, assaults, or small crimes like pickpocketing, which can happen anywhere. To avoid these types of problems, you should stay alert and aware of your surroundings when out in public. Also and more importantly, stay clear of the Armenia-Azerbaijan border in the Nagorno-Karabakh region. Tensions between Azerbaijan and Armenia are high, due to territorial disputes in this area and armed conflict may ensue anytime.
Tourist destinations in Azerbaijan
Azerbaijan, also known as the "Land of Fire", is home to lots of tourist destinations. But we can't possibly fit them all here, so below are some of the most interesting places we've handpicked that will surely enchant you:
Flame Towers
Yanar dag
Absheron National Park
Goyazan Mountain
Lake Goygol
Icheri Seher
Baku Seaside Park
Yanar Bulag
Sheki
Astara
Closing thoughts
Azerbaijan is one of the emerging tourist destinations that travelers are starting to find out about. We hope that this guide has enlightened you about this country and answered any questions you might have had about the country's tourism visa policies and more before you get here.