Ghana Visa For US Citizens: Application Process & Requirements [2023]
Ghana is a nation in West Africa and a part of ECOWAS. The country has a population of over 30 million people and plays host to American tourists who visit to connect with their black ancestry.
Many Americans including Artists and Hollywood stars travel to Ghana to take in the magnificent beaches, historical sights like the Elmina castle, and sites that commemorate the heinous slave trade of the past.
Traveling around the world is an adventurous journey, and Ghana, the gold coast of Africa, is a well-liked destination for Americans due to its rich history, abundant animals, vibrant culture, tropical warm temperature, waterfalls, and different landscapes.
In recent years, Ghana's booming tourist sector has experienced tremendous growth. It will be worthwhile to spend some time in this lovely country in West Africa. However, it's important to familiarize oneself with the visa procedures before beginning your adventure to this West African gem.
In this article, we are going to be covering all you need to know about obtaining a Ghana visa for US citizens. We aim to provide American travelers with a comprehensive guide to Ghana visa requirements, ensuring a smooth and hassle-free travel experience.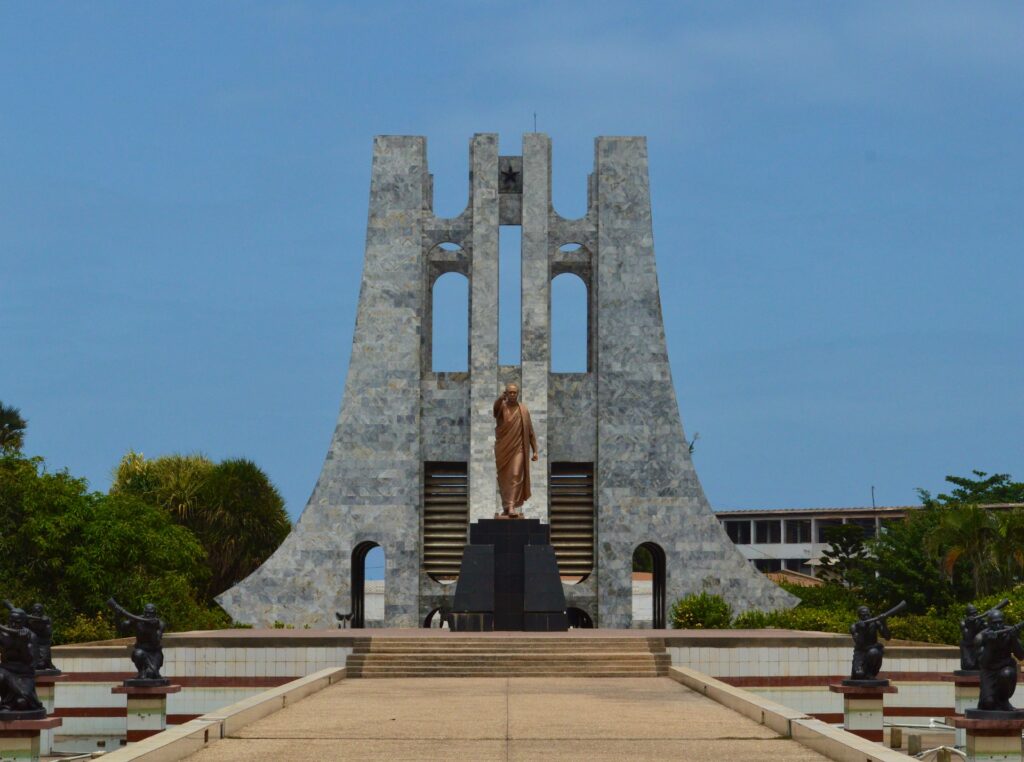 Do US Nationals Require a Visa to Visit Ghana?
Since the United States of America (USA) is not included in Ghana's visa waiver list, US residents must obtain a visa in order to enter the country. Those who are US citizens or who have a green card must apply for a visa to Ghana before traveling there
How to apply for a Ghana visa
To obtain a Ghanaian visa, American citizens must follow these general steps:
Complete the Application Form: Obtain the visa application form from the Ghanaian Embassy or Consulate in Embassy of Ghana Consular Section 3512 International Dr. NW Washington DC 20008, fill it out accurately and provide all the required information.
Gather Supporting Documents: Prepare the necessary supporting documents, which may include a valid passport with at least six months' validity beyond your intended stay, passport-sized photographs, flight itinerary and a proof of accommodation.
Visa Fee: Check the current visa fee and ensure you have the required amount ready. Some embassies or consulates may only accept payment in cash , so it's advisable to inquire beforehand.
Submit Your Application: To submit your application, together with the necessary paperwork and the required visa fee, go to the Ghanaian Embassy or Consulate at 3512 International Dr. NW in Washington, DC. To accommodate for processing time, it is advised to apply in advance of your anticipated travel dates.
Processing Time: Although the time required to process a Ghanaian visa might vary, it typically takes 7 to 20 business days. Plan your trip appropriately and allow enough time before your departure.
Ghana Visa Requirements
The visa application form must be completed as the initial step in the visa application process. The application for a Ghana visa is available on the website of the Ghanaian government.
While completing the form and applying for your visa, you will need to provide basic information and supporting documentation. The following travel documents are necessary for your visa:
A passport that is at least six months old and has two consecutive blank visa pages
A properly completed online or in PDF format application for a Ghana visa
Two recent white-background passport photographs
A letter of invitation for a professional or business meeting on letterhead of the company
The host's legitimate Ghanaian identification, such as a current passport with a business visa.
Documentation proving lodging or hotel reservations, including the location's name and address in Ghana
An undertaking from the host that they will make sure the visitor complies with Ghanaian immigration laws while applying for a work or business visa
The visa page for a residence permit (for people without US passports)
Copies of the passport's Bio-Data pages
Contact information, including business and home phone numbers
Proof of adequate funds or bank statements
The anticipated departure date
Proof of Covid-19 immunization or a negative RT-PCR test result (completed within 72 hours of departure for individuals who have not received the vaccine).
Requirements For Minors For Ghana Visa
You must submit your Ghana Visa form if you are accompanied by minors. Parents or legal guardians can do this for children. You will need to submit the following in your application along with all the supporting documents:
Birth certificate for the child.
A letter of permission that both parents have signed and authorized.
Copies of the passports or picture IDs of both parents.
Evidence of visa application costs.
Assuming you are for a student visa. You will require a letter of acceptance or admission with course dates from a reputable and approved institution.
How long does it take a US citizen to get a Ghana visa?
Expect to receive your visa in 7 working days (expedited service) or 15-20 working days (regular service) after submitting your application at the Ghanaian embassy or consulate. Consider submitting an application for it at least 3 weeks before your intended travel to prevent delays.
How long can a US citizen stay in Ghana with a visa?
Single entry visa: A single entry visa is for those who only plan to visit once and won't be returning for a while. Single-entry visas are only valid for one entry and then they become invalid. If you leave the country even before it expires, you must apply for a new visa if you want to enter the nation again.
Multiple entry visa: As long as the visa is still valid, the holder of a multiple entry visa may enter Ghana as frequently as they choose. There is no limit on the number of entries, making this the perfect travel document for regular travelers. Numerous-entry visas typically have extended validities.
A 30-day maximum stay is permitted with the single entry tourist visa for Ghana, which is typically valid for three months from the date of issuance. A multiple entrance visa is typically good for one to three years. For a visa to be issued, a passport must still be valid for at least six months and have at least one blank visa page.
Types of Ghana Visa
Ghana offers different visa types depending on the purpose and duration of your visit. The most common visas for American citizens are:
Tourist Visa: The majority of Americans who go abroad do so as tourists, hence tourist visas are the most common type of visa. With this short-term visa, the person may remain in the nation for up to 90 days before leaving. Any of the 16 regions in the nation can be visited to take in the sights and sounds.
Business Visa: Business visa is for those who are doing business in Ghana. They can enter the country to attend meetings, sign contracts, or do any other business engagements. Business visas are also short term visas too.
Work Permit Visa: Many American foreigners in Ghana either own their own businesses or work in a variety of places. As the only legal document that permits a foreigner to work in Ghana, these expats reside and are employed there on work permit visas.
Study Visa: US citizens coming to attend courses in any of the country's institutions of learning require a study visa issued by the embassy in Washington or any of its consulates.
Transit Visa: For US citizens entering other nations via Ghana, this is a short-stay visa. The visa permits just brief stays of a few days in the nation before the traveller must continue on to their next destination.
Although there are a few additional types of visas, these are the most popular choices for Americans. The type of visa you want should be determined by the reason for your trip.
Ghana Visa Fees
| | | |
| --- | --- | --- |
| VISA TYPE | SERVICE TYPE | FEE |
| Single Entry Visa | Regular Service | $60.00 |
| Single Entry Visa | Expedited Service | $100.00 |
| Multiple Entry Visa | Regular Service | $100.00 |
| Multiple Entry Visa | Expedited Service | $200.00 |
Interesting Facts About Ghana
Ghana is known for its rich cultural traditions, including music, dance, and art.
The country is home to diverse ecosystems, including rainforests, grasslands, and coastal wetlands
Ghana has several national parks and reserves, including Kakum National Park and Mole National Park
Ghana is the world's second-largest cocoa producer
The country has a growing oil industry and is also a major exporter of gold and other minerals as Ghana is the world's 7th producer of gold
Ghana has a diverse population with more than 100 ethnic groups and several religions, including Christianity and Islam
The colourful national costume of Ghana is made from handwoven cloth called kente.
Travel Tips for US Citizens visiting Ghana:
Embrace Local Customs: Ghanaians are renowned for their warmth and friendliness. Before you embark on your journey, learn a few basic phrases in Twi, a widely spoken local language. A respectful greeting can go a long way! Also, don't forget to engage in local traditions. It's common to give and receive items with your right hand only, as using the left hand can be considered disrespectful.
Currency: The local currency is the Ghanaian cedi (GH₵). US dollars are not widely accepted, so it's essential to have cedis on hand for purchases. ATMs are common in larger cities, but it's a good idea to keep some cash handy when you're exploring more rural areas.
Transportation: While the country has public transportation, for more comfort and flexibility, consider hiring a private driver or renting a car. Do note that driving can be challenging, with varying road conditions and local driving habits.
Safety: While Ghana is generally safe, it's always prudent to stay alert, especially in crowded places like markets and bus stations. Avoid flashing valuable items, and secure your belongings in well-traveled areas. As with any country, it's always wise to stay aware of your surroundings.
Tourist Destinations: Ghana is blessed with an array of attractions. Don't miss the historic slave-trade castles at Cape Coast and Elmina, the stunning Kakum National Park with its canopy walkway, and the bustling art scene in Accra. The Mole National Park offers an opportunity to spot African elephants in the wild.
Accommodations: There's a wide range of accommodations to choose from, whether you're looking for luxury resorts, budget-friendly guest houses, or something in between. Consider booking in advance during peak travel periods.
Food and Drink: Ghanaian cuisine is rich, with staple foods like fufu, jollof rice, and plantains. Try local delicacies like kelewele (spicy fried plantains) or groundnut soup. Street food is popular and generally safe to eat, but always opt for fresh, hot food from busy vendors. Tap water is not typically safe to drink, so stick to bottled water.
Local Experiences: To truly understand Ghana, immerse yourself in local experiences. Attend a traditional music and dance performance, explore local markets, or participate in a Kente cloth weaving workshop. Don't be shy to chat with locals – Ghanaians are generally friendly and happy to share their culture.
Conclusion
Understanding the visa procedures for Americans is essential before starting your trip to Ghana. You can guarantee a simple and trouble-free visa application process by following the instructions provided in this detailed guide. Remember to obtain all the required paperwork and give yourself enough time to process it. With the right planning, you'll be prepared to discover Ghana's wonders and make priceless memories in this alluring West African country.