Myanmar Visa for US Citizens: Application Process and Requirements [2023]
With its rich history, colorful culture, and magnificent scenery, Myanmar, a compelling nation tucked away in Southeast Asia, draws adventurous tourists. Myanmar has just been opened up to the world and is now a popular travel destination for people who want to see how society was before modernisation. With its spectacular ancient remains of Bagan, sparkling temples and pagodas, primeval teak forests, and secluded ethnic minority populations, the primarily Buddhist country intrigues tourists with its mystery and mysticism.
The Inhabitants of this beautiful nation are consistently cheerful and eager to assist foreigners, earning their reputation as one of the nicest nations in the world. The warmth and generosity of the Burmese, Rakhine, Shan, and other native populations cannot be equaled as they go out of their way to welcome visitors over for lavish feasts and cups of tea.
Myanmar has everything you might want, whether you're looking for enlightenment on the spiritual level, fascinating cultural experiences, or breathtaking natural beauties. In this article, we clarify the crucial conditions for obtaining a visa for American nationals, encouraging them to set off on a memorable adventure to this magnificent land.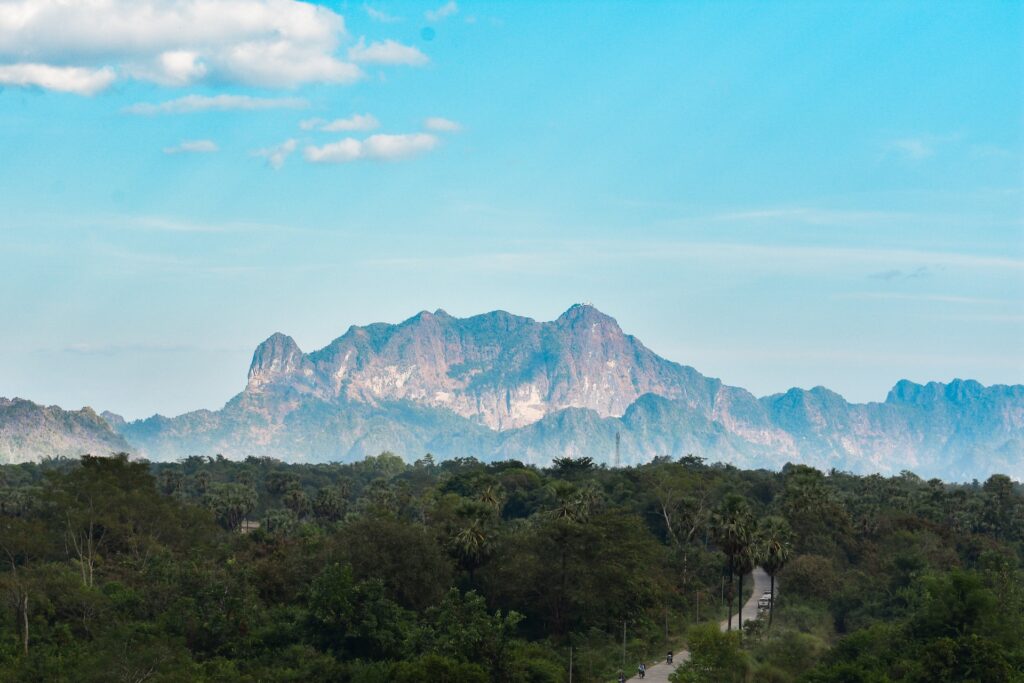 Do US Nationals Require a Visa to Visit Myanmar
Yes. Visas are required for US citizens to enter Myanmar. They cannot enter without a visa. Only a select group of Asian nationals, including those from Indonesia, Brunei, and Thailand, are permitted to enter Myanmar without a visa.
Myanmar visa requirements
Valid Passport: Your passport should have a minimum of six months' validity remaining from your intended date of entry into Myanmar.
Recent Color Photograph: You are required to upload a recent color photograph, taken within the last three months. The photograph should adhere to the specified dimensions of 4.6 cm x 3.8 cm.
Passport Bio-Data Page: A scanned copy or clear photo of your passport's bio-data page is required. This is the page with your photo and personal information.
Proof of Return: Documentation of your return journey from Myanmar is required. This can be in the form of a return flight ticket.
Hotel Booking Confirmation: Evidence of your accommodation arrangements during your stay is needed. This should include hotel reservations or similar. Please note that tourists are required to stay in registered hotels, motels, inns, guest houses, or resorts during their time in Myanmar.
Travel Insurance: Can be purchased on https://www.mminsurance.gov.mm
COVID-19 Vaccination (Children under 12 years old are exempted from this requirement, if they travel with fully vaccinated parent(s) or guardian(s))
Payment Method: The payment for the eVisa application is made online, with accepted credit cards being Visa, Mastercard, or JCB.
If you are applying for a Business Visa:
Letter of Recommendation from a registered company in your country
Letter of Invitation from a registered company in Myanmar
How to apply for a Myanmar visa for US Citizens
Step 1: Website Access: Begin by visiting the Ministry of Immigration and Population's official website at https://evisa.moip.gov.mm/Tourist/Message. Scroll to the bottom of the page and select "Continue To Apply" to initiate the application process.
Step 2: Vaccination Information: You'll need to provide detailed vaccination information. This includes affirming receipt of all recommended vaccinations, the date of your initial vaccination, and any subsequent booster dates. Following this, you'll be required to input your insurance details and upload a copy of your insurance certificate.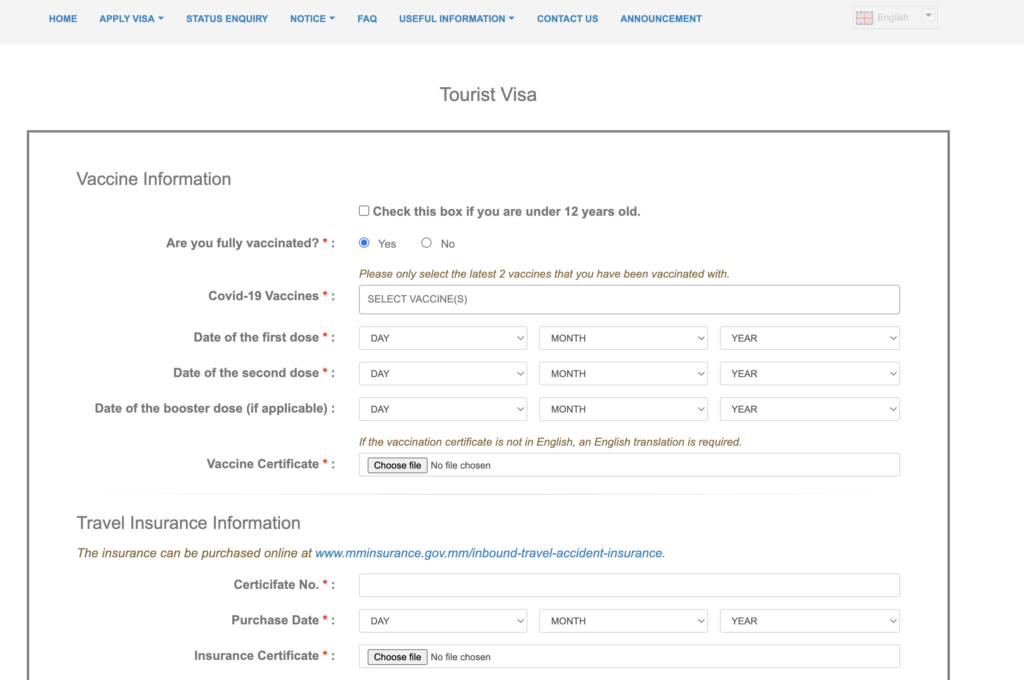 Step 3: Personal Information Entry: Next, input your personal information including your nationality, passport number, email address, and port of entry into Myanmar. After completing this form, proceed to accept the terms and conditions.
Step 4: Myanmar Visa Application Form: The form is divided into several sections:
Step 5: Document Upload: You're then required to upload scanned copies of essential documents including your passport biodata page, return ticket, and proof of hotel booking.
Step 6: Additional Information: In the final section of the visa application form, indicate whether you are part of a package tour or a tour group. Additionally, provide details of any accompanying children under the age of 7, if applicable.
Step 7: Details Confirmation: Review your application meticulously to ensure all provided information is accurate and current. Any error could potentially delay processing or lead to visa denial.
Step 8: Visa Fee Payment: The visa fee must be paid via a credit or debit card prior to submitting your application. A confirmation email will be sent within an hour of payment, after which you can finalize and submit your visa application.
Then, all you have to do is wait for authorities to review your application. Your Myanmar e-visa will be sent to the email address you provided during application.
Note that you must print one copy of your Myanmar online visa after you obtain it to present to immigration officials. It can be in black and white, provided it is legible.
Do children need a visa
Every child aged 7 years and above must possess their own individual visas when traveling to Myanmar. However, children under the age of 7 are exempt from this requirement and do not incur any additional costs. If you're traveling with children under the age of 7 on the same passport, you need to include each child's name and birthdate in the specified section for minors on the application form.
How long does it take a US citizen to get a Myanmar visa
A standard application for a Myanmar eVisa takes roughly 3 business days to process. Weekends and legal holidays are not included in this.
How long can a US citizen stay in Myanmar with a visa
A Myanmar visa can be used to enter the country for three months after it has been issued. The visa will expire and be useless if you don't enter within three months. Depending on the type of visa you have, you can stay in Myanmar for up to 28 days or 70 days after entering.
You can stay in Myanmar for up to 28 days if you have a:
Tourist Visa
Social Visa
Journalist Visa
Crew Visa
You can stay in Myanmar for up to 70 days if you have a:
Business Visa
Employment Visa
Is there a visa for Myanmar on arrival for US Citizens?
No, a visa on arrival for tourism purposes is not available to US citizens traveling to Myanmar. While a business visa on arrival does exist, allowing US citizens a 70-day stay, it only covers transit and business travel, including attending conferences or seminars. Therefore, American tourists planning a trip to Myanmar must secure their visa prior to arrival.
Can I enter Myanmar with my eVisa at any point of entry?
No, you can't. There are only some points where you can enter. These are:
One of the 3 International Airports:
Yangon
Mandalay
Nay Pyi Taw
One of the 5 International Land Border Checkpoints:
Tachileik
Myawaddy
Kawthaung
Tamu-Moreh and
Rih Khaw Dar-Zokhawthar
Types of Myanmar Visa
The different types of Myanmar Visas are:
Tourist Visas: This visa is issued to foreigners traveling to Myanmar for tourism purposes.
Business visa: A business visa allows foreigners to travel to Myanmar to conduct business like conferences.
Social Visas: This visa is for all former Myanmar citizens or residents and all their family members including those family members who are not Myanmar citizens not born in Myanmar.
Myanmar Employment Visa: which is issued to foreigners who will come to work in Myanmar
Transit Visas: This visa is the type of visa which is issued to foreigners who have to transit in Myanmar while on their way to a third country. This type of visa is only valid for 24 hours.
Journalist Visa :Journalist visas are issued for a stay in Myanmar up to 28 days and are valid for entry into the country within three months from the date of issue.
Myanmar Visa Fees
Tourist Visa: $20 USD.
Myanmar Transit Visa: $18 USD.
All other types of Myanmar Visas (business visa) : $36 USD
Myanmar eVisa Fees
Tourist eVisa fee: $50
Business eVisa fee: $70
Myanmar Visa on Arrival Fees
Myanmar Business Visa On Arrival: 50 USD
Can Americans extend their Myanmar visa
Depending on the type of visa you hold, you may or may not be able to extend your stay in Myanmar. A Myanmar tourist visa cannot be extended as a result. However, if you have another form of visa that can be extended, like a business or work visa, you can submit an application at the immigration services in Myanmar.
What is the address of the Myanmar Embassy in the US
The embassy in America is located at: 2300 S St. N.W. Washington D.C 20008.
What Are The Myanmar Covid-19 Requirements?
These measures are part of the government's efforts to control and mitigate the spread of Covid-19 within Myanmar:
Covid-19 Restrictions: In contrast to other nations that have begun removing its Covid-19 restrictions, Myanmar has decided to keep them in place.
COVID-19 Antigen Rapid Diagnostic Test (RDT): A COVID-19 Antigen Rapid Diagnostic Test is required of all foreigners entering Myanmar. This test's objective is to find people who might be Covid-19 carriers when they arrive.
Medical Insurance: Visitors from outside Myanmar must be covered by medical insurance that includes Covid-19-related costs. This guarantees that tourists to Myanmar have adequate financial protection in case they need medical care or assistance due to Covid-19.
Health Declaration Form: A health declaration form must be completed at https://moh.gov.mm/ and submitted by international visitors in addition to the RDT. Normally, this form asks questions about the person's current health, previous travel experiences, and any potential Covid-19 symptoms. It assists authorities in determining the risk profile of tourists and monitoring any prospective cases.
Travel Tips for Myanmar
Food: American tourists should embrace local cuisine and savor the variety of flavors when visiting Myanmar. Try local foods including tea leaf salad, Shan noodles, and the well-known fish noodle soup Mohinga.
Currency: It is crucial for American visitors to Myanmar to understand that the local currency is the Myanmar Kyat (MMK). Carry enough cash with you and exchange your dollars at approved money exchange counters or banks as credit cards might not be frequently accepted outside of popular tourist locations.
Tourist Destinations :As an American traveler seeing Myanmar, be sure to stop by well-known sights like the ancient city of Bagan with its countless temples and pagodas and the magnificent Shwedagon Pagoda in Yangon, a vital religious site. When visiting religious places, observe local norms, dress modestly, and think about hiring a local guide to help you better understand and appreciate the cultural and historical value of these sights.
Closing Thoughts
As you can see, getting a visa for Myanmar is not a complicated process for US citizens. You can simply apply for an eVisa on the official website. Alternatively, depending on your visa type, you can opt for a visa-on-arrival, which allows you to obtain your visa directly upon reaching your destination.
If you have more questions, you can read the Myanmar visa FAQ on the official Gov't website.
If you enjoyed our Myanmar Visa for US Citizens article, you may want to check out our Laos Visa for US Citizens guide too.
You may ensure that your trip will go smoothly by adhering to the visa requirements mentioned in this article. This will allow you to fully enjoy Myanmar's rich history and all it has to offer.