Laos Visa for US Citizens: Application Process & Requirements [2023]
Laos, a hidden jewel in Southeast Asia, attracts tourists with its alluring combination of scenic natural beauty, rich cultural heritage, and quiet spirituality. Laos offers breathtaking landscapes and a serene atmosphere, from the serene temples of Luang Prabang to the magnificent limestone karsts of Vang Vieng. Discover the nation's enduring charm by immersing yourself in the hospitality of the people, enjoying the mouthwatering Laotian cuisine, and going on river cruises down the Mekong. The first step in organizing a trip to the captivating country of Laos for Americans is to become familiar with the visa requirements.
The relationship between Laos and the United States has developed significantly over the years, grounded in mutual respect and a shared interest in Southeast Asia's peace and prosperity. A marked example of this bond is the ease of obtaining a Laos Visa for US Citizens, which fosters interpersonal exchanges and cultural understanding. Economic collaborations have also grown, with US companies contributing to Laos' development, and many American tourists discovering the unparalleled beauty and rich cultural heritage of Laos each year. As such, the Laos Visa for US Citizens not only represents a document granting entry but also a symbol of the continued strengthening of ties between these two diverse nations.
This thorough guide attempts to provide you with the knowledge you need to successfully negotiate the complexities of Laos visa procedures, providing a simple and trouble-free travel experience. Join us as we examine the specifics of obtaining a Laos visa, enabling you to completely immerse yourself in the wonders this mesmerizing country has to offer, whether you're planning a brief visit or an extended stay.
The Laos tourist visa is valid for 60 days with a maximum stay of 30 days.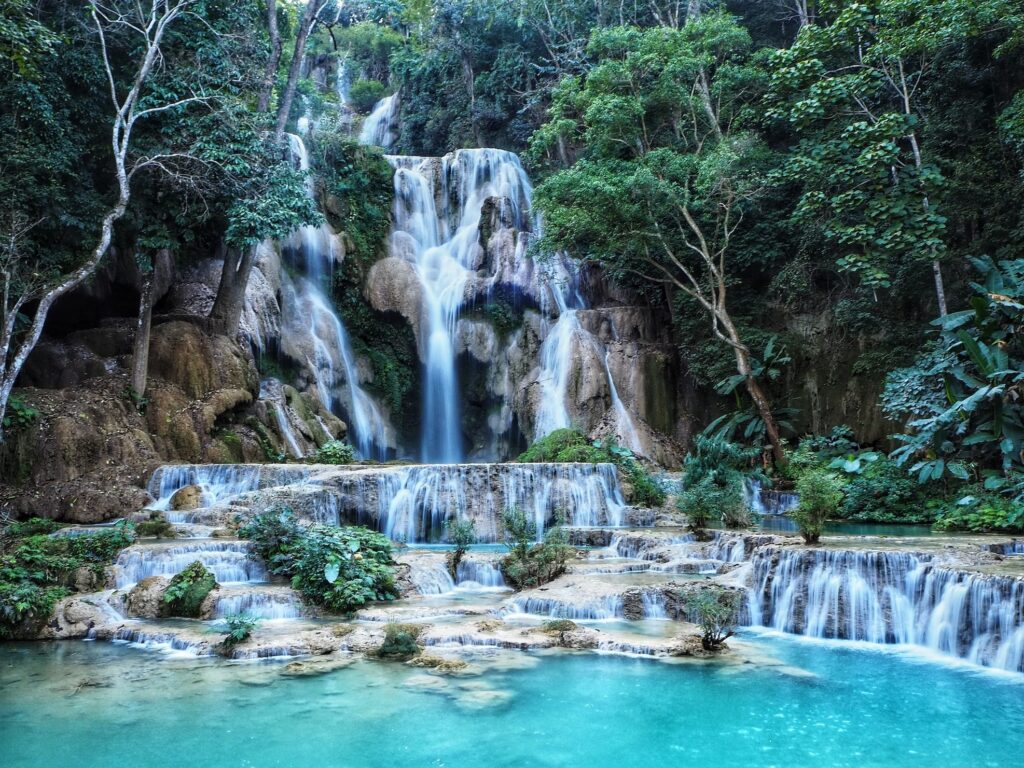 Do US Nationals Need a Visa to Visit Laos
Yes, visa is required for US Nationals who wish to enter Laos. While it is a common knowledge, your passport is also required and must be valid for at least six months. If you intend to travel to Laos, please make sure you plan and ahead and apply for your visa in time to avoid unpleasant surprises.
Laos Visa Requirements
Your passport, which must be valid for at least another six months.
The Laos visa application form. If you apply at an embassy, you can download it online. If you apply for the visa on arrival, you can get the application form on the plane or at the checkpoint/airport.
Two recent passport-size pictures, with a white background and 4 cm x 6 cm dimensions.
Proof of accommodation in Laos, such as a hotel reservation.
Proof you have enough financial means to cover your stay.
A return-trip ticket or onward ticket.
Payment of the Laos visa fee.
Any additional documents that the Laos consular services as for, depending on the reason for travelling.
Things to note:
Lao eVisa fee is non-refundable
eVisa is valid for Single Entry only.
Only ordinary passport holders can apply for the Laos eVisa.
When entering Laos with an approved eVisa, travelers must present the same passport used during the eVisa application. This passport should also match the one declared at the departure checkpoint or most recent checkpoint. Lao immigration officials will inspect this during the entry process. Failure to adhere to these requirements could result in denial of entry into Laos.
How to Apply for a Laos Visa for US Citizens?
You can apply for a Laos eVisa online via the Laos eVisa portal with these steps:
Step 1: Visit the the eVisa portal at https://laoevisa.gov.la/. Click on "Apply" and enter your correct email.
Fill the captcha and proceed. You will be sent a 4 digit verification code via email. Copy and insert the captcha code, and then click on "Verify" to complete the account registration and email verification process.
Step 2: You will be taken to the application page where you will be asked for your passport type.
Select "Ordinary" and click "Next".

Step 3: You will be asked to provide a scanned copy of your passport data page and your passport photo. The formats are JPG, JPEG and PNG with a size limit of 2MB for each document.
Step 4: Proceed with the form and fill out your personal and travel information.
During the application process, you'll encounter several fields that require your attention. First, you'll need to choose your visa type. Currently, the "tourist" option is the only one available.
Next, you'll select your designated port of entry. This would be one of the eight international ports where you plan to enter Laos. After this, you'll specify your intended date of entry, helping authorities anticipate your arrival.
The form also asks for the purpose of your visit. Here you can choose either "Travel" or "Visit", depending on the nature of your trip.
An important detail to provide is your intended address during your stay in Laos. A hotel or Airbnb address is typically sufficient for this field. You might consider finding a place near key tourist spots for convenience, or perhaps you might want to stay in a less touristy area if you're looking for a truly local experience.
Lastly, there's an optional field where you can indicate your next destination after Laos. Whether you're continuing your adventure in another country or heading back to the States, you can note that here.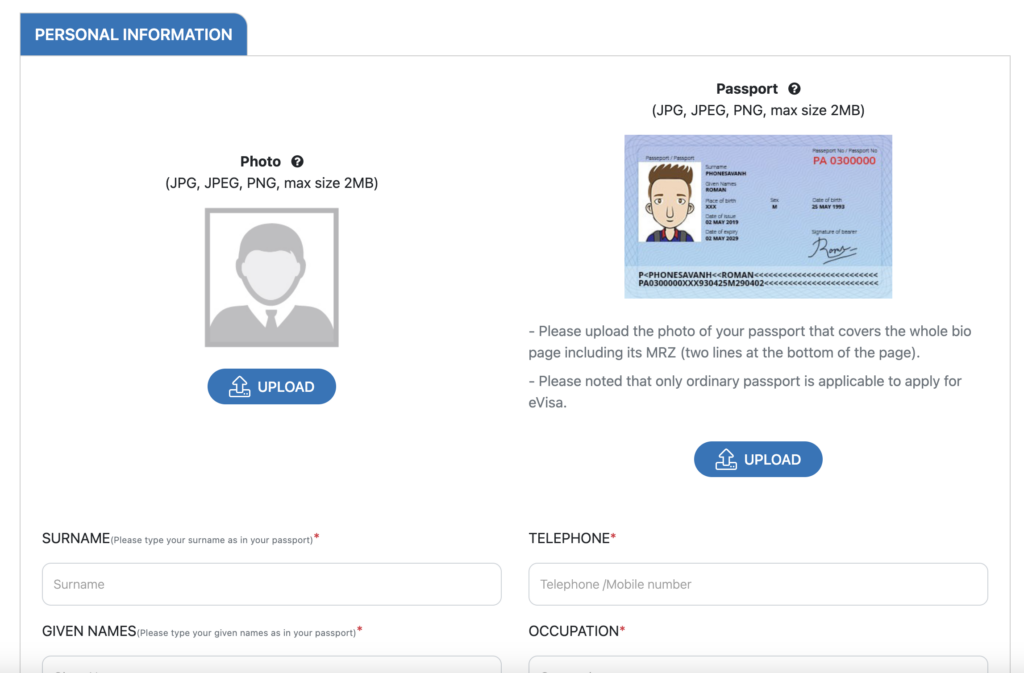 Step 5: Double-Check information you provided. You must verify that all the data is accurate and that the proper documents were uploaded. Then, if you discover an error, all you have to do is click to go back and fix it.
Step 6: Finally, you must submit your application and pay the visa fee. After that, all you have to do is wait for them to review your application
Your eVisa should be ready in 3 days after you must have submitted your application and paid the visa fees.
You will receive your visa via email, which you must then download and print.
What to do after arriving Laos?
Once you touchdown in Laos with your eVisa approval letter, here's your game plan:
First off, make your way to the Immigration area. Look out for the special eVisa lane – that's where you need to be.
When it's your turn, hand over your passport and eVisa Approval Letter to the Immigration officer. They'll check everything over and give you a final approval.
Once they give you the all-clear, you're officially in! Welcome to Laos.
Can US Citizens get a Laos visa on arrival?
The documents listed on the requirements above must be presented at the visa on arrival issuing counter when you arrive at the Laos checkpoint.
You must wait until the visa is processed after you submit the required paperwork. A visa will be granted to you for a maximum of 30 days.
It is advisable to go with the eVisa option to be very certain of your approval.
Applying for a Laos Embassy Visa
To apply for a Laos Visa at an embassy, you have to:
Contact the nearest consulate or embassy.
Fill out the online Laos visa application form and send it in with the necessary paperwork. A Laos visa application can be found on the embassy or consulate's website.
As directed by the Lao consulate services, you can submit your application in person or by mail.
Pay the visa fee for Laos.
Note : It is only when you are unable to obtain a visa on arrival or an online visa, or if you wish to extend your stay beyond the duration permitted by the visa on arrival (VOA) or eVisa, that it is necessary for you to apply for a Laos visa at the nearest Lao embassy/consulate.
Do children need a visa?
Yes, all applicants including children and infants must have a visa.
How long does it take a US citizen to get a Laotian Visa
After submitting and paying for your eVisa, your application can be processed in 3 business days. However, incorrect or incomplete information can cause the processing from your visa to take longer. We advise submitting your application as soon as possible because there are several factors that can affect how quickly your visa will be processed.
How long can a US citizen stay in Laos with a visa
The maximum validity period for a Laos tourist visa is 60 days from the date you receive the approval letter. But keep in mind that the eVisa's Stay Permit is only valid for a single entry for 30 days.
Types of Laotian visa
Laos Tourist Visa: Foreign nationals who want to travel to Laos are granted this visa. A tourist visa for Laos can typically be obtained online or upon arrival.
Laos Business Visa: For foreigners who desire to travel to Laos for business, investment, data collection, or other reasons, this visa is provided. You cannot work for a Lao company using this, hence it differs from a work visa for Laos.
Laos Transit Visa: Foreign nationals who are traveling through Laos on their way to another country are granted this visa. You cannot prolong its seven-day expiration date. You must show evidence of future travel to obtain this visa.
Laos Work Visa: This visa is issued to foreigners who want to work in Laos and their family members.
Laos Media Visa: This visa is issued to foreign journalists, travelling for their work.
Laos Student Visa: This visa is issued to foreign nationals who have been accepted into a Lao educational institution.
Laos Spouse Visa: This visa is Issued to the spouses of Lao nationals.
Can You Extend a Laos Visa?
In Laos, you have the option to extend your visa either at the Immigration Department in Vientiane or at the Immigration Division Office of the province where you will be residing. It is important to note that you must apply for a visa extension before your current visa expires. Regarding tourist visas, you can obtain a maximum of two extensions, allowing you to stay for a total of 90 days beyond the initial 30-day period
Laos Visa Fees
For your application, you need budget approximately $50 USD. To determine your visa charge according to your nationality, you can visit the Laos official visa online website and utilize their evisa fee calculator.
Laos Ports of Entry
Laos eVisa Ports of Entry
With the Laos eVisa, you can enter the country from any of the following 8 international ports which are better equipped to welcome travelers from around the world, including US citizens.
| Airport Name | Province |
| --- | --- |
| Wattay International Airport | Vientiane Capital |
| Lao-Thai Friendship Bridge I | Vientiane Capital |
| Luang Prabang International Airport | Luang Prabang Province |
| Lao-Thai Friendship Bridge II | Savannakhet Province |
| Pakse International Airport | Champasack Province |
| Lao-Thai Friendship Bridge IV | Bokeo Province |
| Boten International Checkpoint | Luang Namtha Province |
| Boten Railway Station | Luang Namtha Province |
Laos Ports of Entry
Laos Visa on Arrival (VOA) Ports of Entry
Wattay International Airport
Savan International Airport
Pakse International Airport
Luang Prabang International Airport
Boten Checkpoint in Luang Namtha (China Border)
Na Pao Checkpoint in Khammouane (Vietnam Border)
Friendship Bridge II Checkpoint in Savannakhet (Thailand Border)
Nonghaed Checkpoint in Xieng Khouang (Vietnam Border)
Nam Phao Checkpoint in Bolikhamxay (Vietnam Border)
Tanalaeng Checkpoint in Vientiane (Thailand Border)
Phou Keua Checkpoint in Eutapeu (Vietnam Border)
Vang Tao Checkpoint in Champasak (Thailand Border)
Daensavan Checkpoint in Savannakhet (Vietnam Border)
Veun Kham Checkpoint in Champasak (Cambodia Border)
Friendship Bridge I Checkpoint in Vientiane (Thailand Border)
Samliemkham Checkpoint in Bokeo (Thailand and Myanmar Border)
Friendship Bridge IV Checkpoint in Bokeo (Thailand Border)
Friendship Bridge III Checkpoint in Khammouane (Thailand Border)
Namheuang Checkpoint in Xayabouly (Thailand Border)
What are the Covid-19 Requirements?
COVID-19 vaccination proof or a negative COVID-19 PCR test is not required for entry into Laos.
Is Laos Safe for US Citizens?
Laos is generally safe for US citizens and other international tourists. However, travelers should be mindful of certain precautions. Petty crimes like pickpocketing or bag snatching can occur, particularly in tourist areas, so it's essential to keep belongings secure. Road safety can also be a concern, with caution advised when driving or crossing roads. Furthermore, unexploded ordnance from past conflicts can still be found in some rural areas, necessitating caution when off the beaten path.
In terms of health, potential risks of tropical diseases such as malaria or dengue fever exist. It's advised to use insect repellent and get necessary vaccinations before traveling. Always check the latest travel advisories from the US Department of State or the Centers for Disease Control and Prevention (CDC) for recent safety and health information. Registering with the Smart Traveler Enrollment Program (STEP) to receive travel alerts is also beneficial.
Areas to Avoid
For a safer journey in Laos, it's advisable to exercise heightened caution in certain areas:
Border Regions with Burma: Due to crime incidences, travelers should be vigilant in remote areas adjoining the Burmese border. Bandits, drug traffickers, and other people pursuing illegal activities operate in these areas, as do armed groups opposed to the Burmese government.
Xaisomboun Province: Due to civil unrest.
Specific Provinces and Routes: Unexploded bombs pose a risk in several provinces including Savannakhet, Xieng Khouang, Saravane, Khammouane, Sekong, Champassak, Houaphan, Attapeu, Luang Prabang, and Vientiane. Additionally, Routes 7, 9, and 20, leading from Route 13 to the Vietnam border, Savannakhet to the Vietnam border, and Pakse to Saravane respectively, require extra care. Stay alert and stick to marked paths in these regions for your safety.
You can find more Laos travel information from the Department of State website.
Interesting Facts About Laos
Buddhism is the biggest religion: Approximately 67% of people practice Theravada Buddhism. In some cases, along with Buddhism.
You can explore plains of ancient stone jars: Giant stone dig outs may be seen all over the countryside in Xiang Khuang Province, in the northern areas of Laos. They cover hundreds of kilometers and, according to archaeologists, date from 500 BC to 200 AD.
It's the perfect country for coffee lovers: The best coffee in South East Asia is produced in Laos. In actuality, its principal export is coffee. It elevates to a whole new level of sweet caffeinated bliss because they serve it with condensed milk.
Laos is home to the Khone Papeng, South East Asia's largest (and most awesome) waterfall.
Travel Tips for US Citizens visiting Laos
Food : When trying Laotian cuisine as an American traveler, be adventurous and try delicacies like sticky rice, laap (minced pork salad), and khao soi (noodle soup). However, be cautious and make sure that street food is freshly made and cooked to prevent any potential health problems.
Tourist attractions /destinations : Visit Luang Prabang, a UNESCO World Heritage site with beautiful temples and traditional architecture, when visiting Laos' tourist attractions as an American traveler. Don't miss out on Vang Vieng's natural treasures, where you may go kayaking, caving, or hiking while taking in breath-taking scenery.
Currency: When dealing with money in Laos as an American tourist, it is advised to have local currency (Lao Kip) since cash is frequently utilized for minor transactions. Major hotels, premium eateries, and some tourist attractions could accept US dollars, but it's always a good idea to have some Kip on hand for convenience and to prevent any potential exchange rate problems.
Closing Thoughts
If you enjoyed our Laos Visa for US Citizens article, you may want to check out our Cambodia Visa for US Citizens guide too.
The Laos visa requirements for Americans are thoroughly covered in this article. It highlights how crucial it is to comprehend these standards in order to guarantee a hassle-free trip. American travelers can prevent hassles and delays by being familiar with the required paperwork and processes.