Egypt Visa for US Citizens: Application Process & Requirements [2023]
Egypt is a transcontinental nation that connects Asia to Africa via the Sinai Peninsula. It has a long and illustrious history that dates back to the time of the Pharaohs around 3000 BC. American adventurers are drawn to it by its enduring attraction and obvious attractiveness. Egypt is an intriguing destination full of wonders to explore and tales to discover, from the recognizable Giza pyramids and ancient tombs decorated with hieroglyphs to the busy streets of Cairo.
Have you ever wondered what connects the US to Egypt? Both are countries with rich histories and vibrant cultures, each unique yet sharing a passion for progress and discovery. From the whispering secrets of the Nile to the captivating relics of ancient civilizations, Egypt invites US citizens to immerse themselves in a tapestry of cultures and experiences. As a country where the modern world comfortably coexists with mystical antiquity, it offers something for every type of traveler. Be it an adventurous explorer, a history enthusiast, or someone who simply appreciates stunning landscapes, Egypt is an intriguing destination. And the best part? Applying for an Egypt Visa for US Citizens has become easier than ever.
In this article, we'll guide you through the requirements and process to obtain an Egypt Visa for US Citizens. This will pave the way for your unforgettable journey to this extraordinary country, filled with breathtaking beauty and unmatched grandeur. Get ready for an experience that will leave an indelible imprint on your memory, as you're warmly welcomed by the locals and serenaded by the echoes of pharaohs throughout your stay.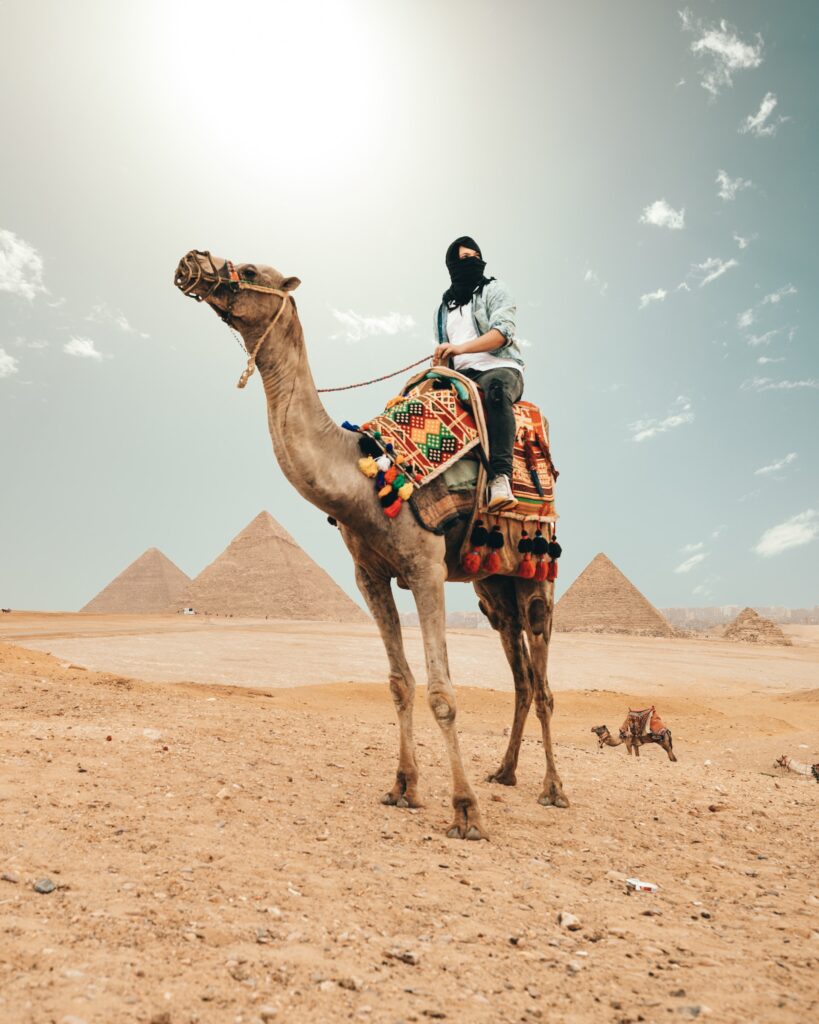 Do US Citizens Need a Visa to Visit Egypt
Yes, a valid Egypt visa is required for travelers with US passports to visit the country.
Egypt Visa Requirements
When you apply for an Egypt visa, you need several documents to support your application, such as:
The Egypt Visa application form (two copies)
Passport-size photo of yourself (2inch x 2inch, white background, taken recently)
Your passport, valid for at least six more months from the date of entry in Egypt and with at least two blank pages
Proof of sufficient financial means such as bank statements or payroll
Proof of a return or onward travel ticket
Proof of accommodation in Egypt
If you're traveling for business: A Letter of Invitation from the company which is hosting you
Proof of payment of the visa fee
For students;
Proof of enrolment and no objection certificate from the registered school
Sponsorship documents if the applicant cannot support himself/herself financially during the period of the stay
Please note: Depending on your trip itinerary, specific documentation may be needed.
Egypt e-Visa Requirements
Aside the requirements listed above, when applying for the eVisa online, you will need the following:
Valid US passport
Scanned image of the passport information page
Recent passport-sized photograph (taken within the last 6 months)
Method of payment (credit card or debit card)
Email address
In order to enter Egypt, your American passport must be valid for at least six months more from the date that you plan to enter Egypt. If you have dual citizenship, you must apply for your Egyptian e-Visa using the same passport that you will use to visit Egypt.
You must include an email address in order to receive notifications regarding the status of your application as well as your Egyptian online visa for Americans. For the latest information regarding the availability of your authorized e-Visa, we advise checking this email inbox frequently.
How to apply for an Egypt Visa for US Citizens
US citizens looking to visit Egypt for business or pleasure have three main options to apply for a visa. They can apply online for an Egyptian e-visa, apply in-person at the Egyptian embassy in Washington, DC, or obtain a visa on arrival when they land in Egypt.
If the applicant desires to stay in Egypt for a prolonged period, whether for work or other reasons, in-person applications to the embassy are necessary. This approach requires more paperwork and requires the applicant to come in for a one-on-one interview, thus it takes significantly longer
How to Apply for an Egyptian eVisa for US Citizens
For US citizens planning to travel to Egypt, it's highly recommended to apply for the Egyptian e-Visa at least 7 days before your trip. This online application process is not only quick and straightforward but it also allows ample time for processing. As such, initiating the procedure a week in advance ensures a stress-free preparation for your journey.
Website Visit: Start by navigating to the official Egypt e-Visa portal at https://visa2egypt.gov.eg/.
Account Registration: Register an account on the portal and confirm your registration.
Portal Access: Once your account is set up, log in to the Egypt e-Visa Portal.
Application Initiation: Look for the 'Apply Now' button and click it to begin the visa application process.
Visa Type Selection: Choose the appropriate visa type for your travel needs and take some time to read the provided instructions carefully.
Form Completion: Fill out the visa application form with all the required information.
Payment: Pay the application fee using a Visa card, MasterCard, or another accepted debit card.
Await Approval: After submitting the form and making payment, wait for the approval of your e-Visa. You'll receive notification via email.
e-Visa Download and Print: Once approved, log back into your account, download the e-Visa, and print a copy.
Entry into Egypt: When you arrive in Egypt, present your printed e-Visa to the immigration officer at your point of entry.
Once your Egypt eVisa has been approved, you'll get an email. Make sure to print out the email as soon as you receive it and to save a digital copy on your phone.
You are required to present a physical print out of your eVisa at the point of entry on your arrival to Egypt.
How to apply for Egypt Visa on Arrival for US Citizens
US Citizens are eligible for Egypt's visa on arrival. These are the steps to follow:
Arrival at the Airport: Once you arrive at an international airport in Egypt, head to the visa on arrival counter before you proceed to immigration. It's typically clearly marked, but if you're unsure, don't hesitate to ask airport staff.
Document Check: Have your valid passport ready. It should have at least six months' validity remaining from the date of entry into Egypt.
Visa Fee Payment: There's a fee for the visa on arrival, which you'll need to pay at the counter. The current charge for the Visa on Arrival stands at $25 USD. Please remember, this fee could change over time.
Visa Stamp: Once you've paid the fee, you'll receive a visa sticker that you need to place on an empty page in your passport.
Immigration Check: With the visa sticker in your passport, you can now proceed to immigration, where your passport will be stamped.
Keep in mind that getting an Egypt visa on arrival can sometimes involve waiting in line after a long flight, particularly during busy travel times. For this reason, some travelers prefer to get an e-visa in advance of their trip, which allows for faster processing upon arrival.
Do children need a visa to go to Egypt from the US
Yes, children who travel to Egypt from the United States usually require a visa. No matter their age, children traveling with adults must have their own Egypt eVisa provided they have their own passport. If a child is listed in a parent's passport, they do not require their own Egypt eVisa if they are traveling with that parent, and the two of them will depart Egypt together.
How long does it take to get an Egypt visa
Applying at least seven days prior to your intended trip is advised because the Egypt e-Visa takes about seven days to process.
The processing period varies based on the particular office if you're applying through an embassy or consulate. Apply as soon as possible, but no earlier than three months before your intended departure date because it typically takes at least 10 working days.
How long can a US citizen stay in Egypt with a visa
An e-Visa is valid for 90 days after it is issued. They permit you to stay in Egypt for a maximum of 30 days and are only good for one entry.
Single-entry: Egypt tourist visas are valid for six months and permit a maximum stay of 60 days.
Multiple-entry: The maximum number of days you can spend in Egypt with a six-month tourist visa is 90.
Transit visa: It can take up to 7 working days to process a transit visa. You can stay in Egypt for 48–50 hours with a transit visa.
Can I get my Visa for Egypt On Arrival?
Yes, US citizens qualify for the Egypt Visa on Arrival.
Types of Egypt visa
Tourist Visa: The most common type of visa for the nation is the Egypt tourist visa, which is given to travelers who intend to enter the nation for tourism-related reasons.
Egypt Business or Fair Participation Visa: Persons who want to enter the nation for meetings, events, business fairs, or unpaid trainings without labor or gainful work are eligible for an Egypt business or fair participation visa.
Family Visa: An Egypt family, relative, or friend visit visa is given to people who want to travel to Egypt to see a family member or a friend. In addition to other required documentation, applicants must submit an invitation letter from the person they are visiting in order to be granted a visa.
Egypt Cultural, Sports, or Conference Visit Visa: Persons or groups traveling to Egypt to participate in a cultural event or activity are eligible to apply for an Egypt Cultural, Sports, or receiving association and confirmation paperwork from the sending association.
Egypt Short-Term Education or Internship Visa: Students who intended to study in the nation for academic purposes are granted an Egypt Short-Term Education or Internship Visa. The applicant must submit proof of suitable housing, proof of acceptable means of subsistence, and an acceptance letter from the receiving institution.
Transit Visa: A transit visa for Egypt is required of travelers whose stay at the designated international airport will last longer than 48 hours. An Egypt transit visa, which may be granted for one or more transits, allows the holder to depart from Egypt and enter a third nation.
What are the cost of Egypt Visa
For the eVisa and Visa On Arrival, which are issued for tourism purposes, the fees are as follows:
Single-entry visa: $25
Multiple-entry visa: $60
Can you extend your Egypt visa
The Egypt Passport and Immigration Administration may allow you to extend your short-term tourist visa for an additional 90 days. You require a copy of your passport, proof of your Egypt visa, and sufficient funds to cover the processing charge.
What is the address of the Egyptian embassy in the US
The Embassy of the Arab Republic of Egypt is located at 3521 International Court, NW, Washington, DC 20008.
What are the covid 19 requirements for American citizens going to Egypt
As of June 17, 2022, you no longer need a COVID-19 test to fly into the country. Egypt's COVID-19 entry restrictions have been lifted, making it even easier for travelers to embark on their Egyptian adventure.
Travel Tips for US Citizens going to Egypt
Don't Go Without Travel Insurance: This is not to argue that you should get travel insurance because Egypt is so extremely risky. However, getting travel insurance is a smart idea whenever you travel to a foreign nation. It is essential to be safe and make sure you will not be saddled with massive debt in the unfortunate event that something bad occurs.
Don't Drink on the Street: Even though you are on vacation and tempted to let loose, avoid drinking alcohol on the street. Not only is it socially unacceptable everywhere, but you might also be breaking the law in some parts of the nation if you do it.
Currency :Bring small denominations of money for ease when visiting Egypt and convert some US dollars for Egyptian pounds once you get there. Be sure to let your bank know about your trip intentions, only use credit cards at larger businesses, and keep your money safe.
LGBTQ : It is crucial to keep in mind that Egypt does not have a positive view of homosexuality, and LGBTQ people there may encounter legal and societal difficulties. It is best to use caution and abstain from public displays of affection.
Closing thoughts
If you enjoyed our Egypt Visa for US Citizens article, you may want to check out our South Africa Visa for US Citizens guide too.
Understanding the conditions for an Egypt visa makes the thought of traveling to Egypt as an American citizen much more enticing.
You may securely plan your journey and take in the delights of this ancient land by being familiar with the rules we provided for you above. Egypt's rich history, gorgeous scenery, and friendly people are waiting to provide you wonderful experiences. So gather your paperwork, abide by the rules listed in this article and be ready for an amazing journey. Enjoy your trip!