Saudi Arabia Visa for US Citizens: Application Process & Requirements [2023]
Saudi Arabia is a cultural treat for tourists. The country's diverse landscape, rich history, mouth-watering cuisines, skyscrapers, and vast deserts all contribute to it being one of the fastest-growing tourism destinations in the world.
Up until recently, there were limits on who could go to this country. Visas were only given to people on religious pilgrimages and people traveling for business. The country has relaxed its rules about tourism and started letting in more foreigners since 2019. This has made it possible for many tourists to visit a whole new world of sights and destinations that they couldn't in the past.
The Kingdom of Saudi Arabia has become a popular destination for US citizens. Many of them travel there for the purpose of tourism in order to explore this fascinating Gulf state, or for business purposes as usual.
Within the scope of this article, we will take a detailed look at the Saudi Arabia Visa for US Citizens, including its requirements and the application process, as well as other pertinent information. We'll also let you know when the best time of the year is to visit this delightful location. Let's get started! Shall we?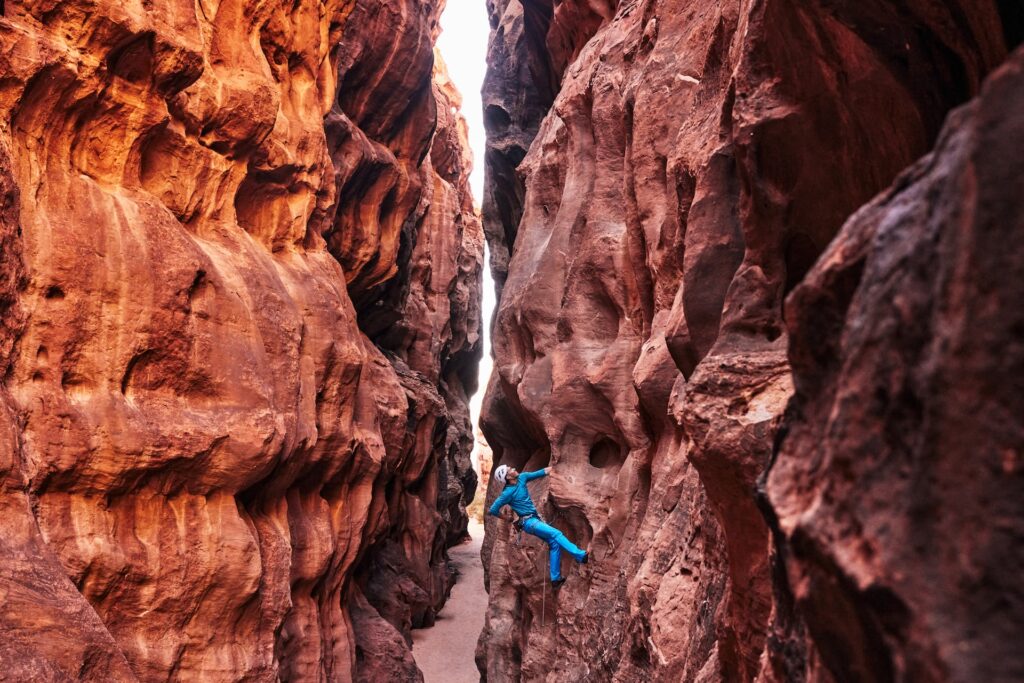 Do US citizens require a visa to visit Saudi Arabia?
Yes, US citizens will be required to present a visa upon entering Saudi Arabia. US citizens can apply online for a Saudi Arabia tourist visa before they travel there. It is also possible to apply on arrival in the country or in person at the Kingdom of Saudi Arabia's embassy. You can choose any of these three paths to apply.
Saudi Arabia Tourist Visa: what is it?
The Saudi Arabian tourist visa, which is also known as the electronic visa (eVisa), is valid for one year, beginning on the date of issue. This visa allows holders to enter the country multiple times, so there is no need to reapply for it every time you plan to visit.
Under the terms of the eVisa, visitors are only permitted a maximum stay of ninety days in the country.
Medical insurance is a requirement for all visitors to Saudi Arabia. When you submit an application for the eVisa, you will be required to choose a medical insurance company registered in Saudi Arabia.
The Saudi Arabian government introduced the eVisa to streamline the travel process for visitors from a few select countries, including the United States.
It is important to note that this visa does not allow you to work or study in the country.
Saudi Arabia eVisa Requirements For US Citizens
To apply for a Saudi Arabia eVisa online, US citizens (and nationals of eligible nations) must meet a few basic requirements, which are:
A photograph in the style of a passport
A passport that will still be valid after at least six months from the entry date into Saudi Arabia.
An email address where the Saudi Arabia visa can be sent online
How to Apply for a Saudi Arabian eVisa?
Applying for an eVisa for Saudi Arabia online is a simple process. You can do it anywhere with an internet connection. It only takes a few minutes to complete the online application form.
In order to get started with the application process for your visa, visit the Saudi eVisa online portal (https://visa.visitsaudi.com/).

Look for the "Apply Now" button and give it a click to set up a new account.
On the registration form, you'll need to choose your passport type. This is typically "Regular Passport". Then, select your nationality, solve the captcha puzzle, and hit "Next".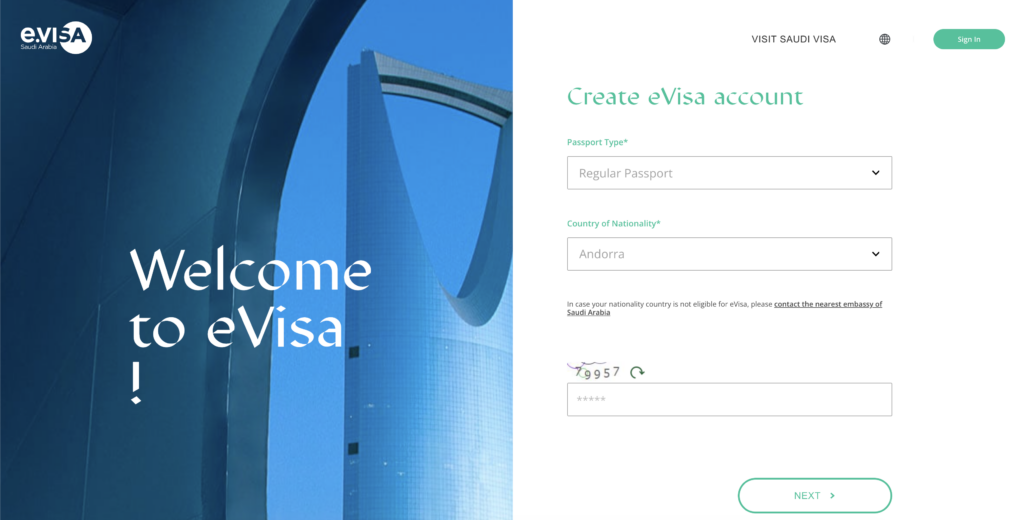 As you dive into the signup process, you'll be prompted to share a few personal details including your full name, phone number, and email address. You'll also be asked to choose a secret question and supply an answer. Make sure you remember both of these as they are essential for maintaining the security of your account. Now, fill out your passport information, complete another captcha, and then click "Register".
Now, check your email for an account activation link. Be quick though – this link only lasts for 24 hours. Make sure to click on it as soon as it lands in your inbox to complete your account registration.
Whenever you login, you'll be asked to request for a security code. The code will be sent to your email. Copy it and paste it in the provided field to proceed to the application form.
After a successfully login, you will be taken to the Saudi Arabian visa portal dashboard.
On the dashboard, you will have the option to "Apply for Individual" or "Apply for Group".
If you are travelling alone, then click on the "Apply for Individual" option.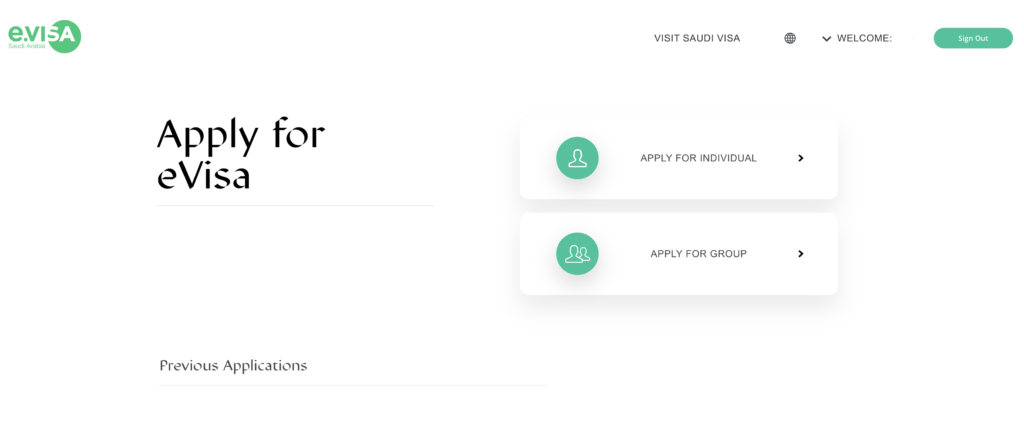 The application process consists of 6 steps, starting with your "Personal Information".
These are the steps.
Personal Information
Passport / Traveler
Medical Insurance
Terms and Conditions
Review Application
Payment
You have 10 minutes each to complete each section.
Make sure to have your digital passport photo handy. The required dimension is 200×200, with a size limit of 100kb. You can compress the image online if it doesn't meet the specifications. The supported image formats are .jpg, .jpeg, .png, .gif and .bmp.
Fill out the first step with your personal information such as your full name, date of birth, profession, nationality, place and country of birth and current residential address.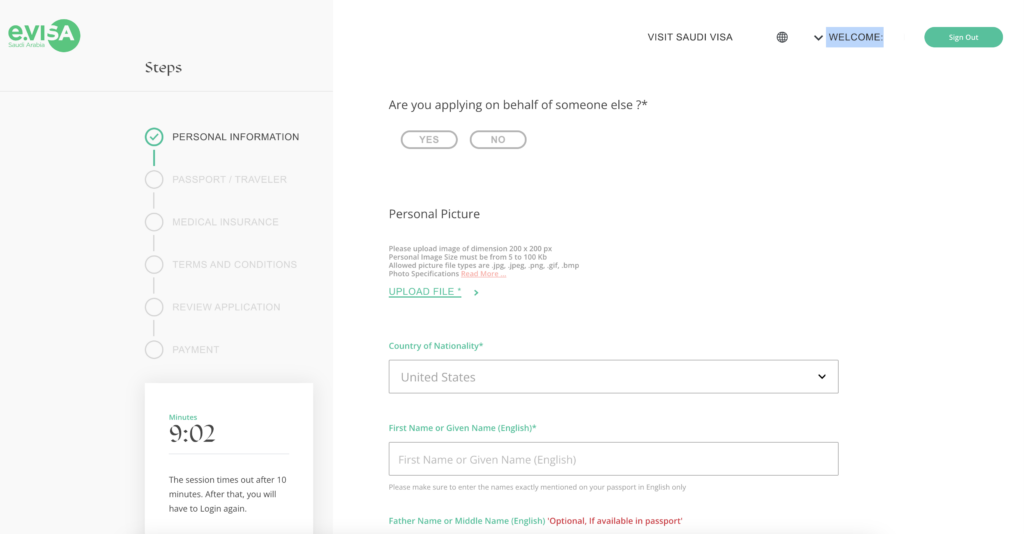 When you reach the "Passport/Traveler" stage, you'll be prompted to share specific details about your upcoming trip.
Here, you'll need to enter accurate passport information along with your expected dates of arrival and departure. Additionally, you'll specify the purpose of your visit and your planned residential address in Saudi Arabia.
As for the purpose of your visit, you'll have a few options to choose from: "Event", "Family and Relatives", "Leisure", and "Umrah". Choose the one that best aligns with your travel plans.
Just a heads up, you'll need to provide the contact details of where you'll be staying during your visit. This could be a residential address, the address of a relative's place, or a commercial accommodation like a hotel or Airbnb.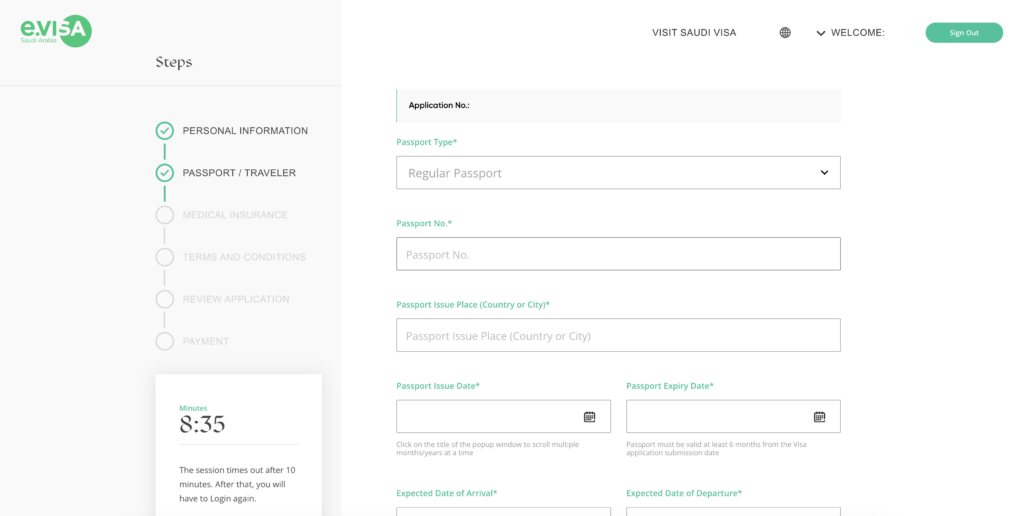 Up next, you'll need to pick your mandatory medical insurance provider for your stay in Saudi Arabia. You'll see a list of approved Saudi medical insurance companies to choose from.
The overall cost for the medical insurance comes in at 180.00 SAR ($48). Once you've made your decision, scroll down and check the acceptance box to confirm you agree with the insurance coverage. Then, you're ready to move on to the next step.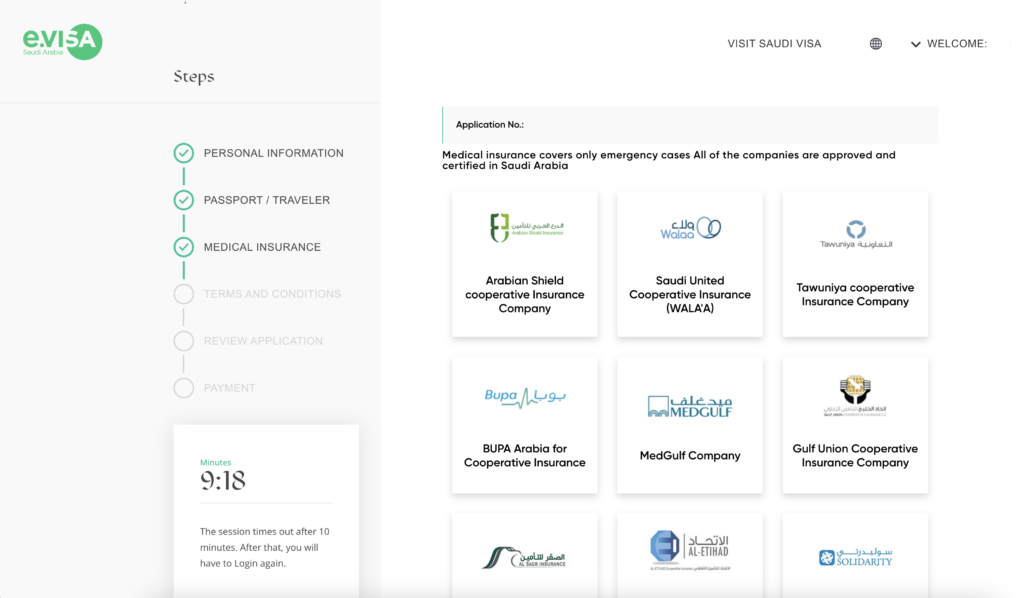 The next step will be to read and accept the Terms and Conditions of the Saudi Arabian eVisa.

In summary, by accepting the terms and conditions, you affirm that the information you've provided is accurate and reliable. You pledge to respect the laws, customs, and Islamic traditions of Saudi Arabia during your stay. You recognize the right of Saudi authorities to deny entry or deport you if you fail to comply with their laws or if the visa information is proven incorrect.

You're aware that substances and materials that contradict Islamic values are prohibited. You're familiar with the regulations around medicines for personal use and understand the penalties for violations. You affirm that you've never been deported from any GCC country and will abide by the visa type and its duration. You accept the penalties for any violation of Saudi rules or your visa.

You acknowledge that drug trafficking is punishable by death and that any misrepresentation in your visa application can lead to penalties, including deportation. You understand that the tourist visa is strictly for tourism purposes and does not allow any paid or unpaid work, including Hajj.

You affirm that your visit does not serve medical treatment purposes and that, to your knowledge, you haven't been in contact with anyone affected by the coronavirus (2019-nCoV). You agree that visa application fees are nonrefundable and have read and agreed to the Privacy Policy and Terms and Conditions.

Your stay is limited to 90 days within the validity of the eVisa, which lasts one year, and there will be no extension or renewal of the eVisa once these 90 days are used. You understand that non-Muslims are prohibited from entering the holy sites of Mecca and Madina.
Make sure to read the TOS carefully and be sure to abide by them before proceeding to review your application review application.
After reviewing the information you submitted, you will need to pay for the visa and health insurance fees using a credit or debit card.
Click on "Agree & Complete Payment", and you will be redirected to the payment portal to complete your visa application.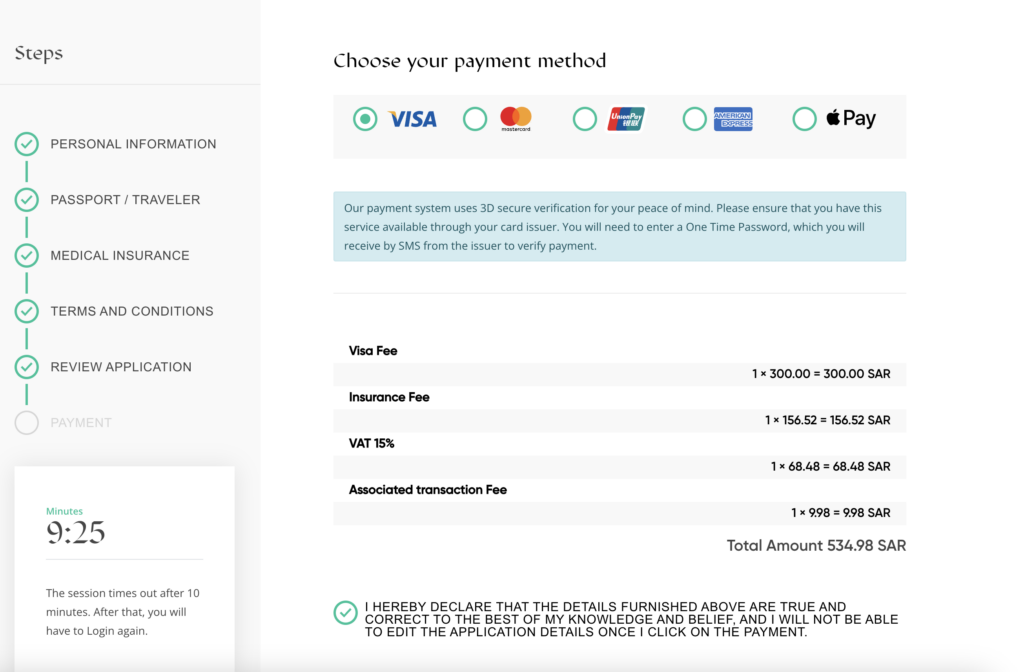 The total will amount to 534.98 ($142) including taxes.
At this point, all that's left for you to do is to cross your fingers and wait for a successful visa application confirmation email.
How much does the Saudi Arabia eVisa cost?
The fee for a Saudi eVisa is split into two payments:
$80 visa fee to the government
$40 for the required medical insurance coverage while in the country.
Saudi Arabia eVisa for minors
Minors (those under the age of 18) also require an eVisa to enter Saudi Arabia. However, they cannot travel alone; they must be accompanied by an adult or legal guardian.
When filling out an eVisa application, parents and legal guardians will have to say if there will be any minors with them on their trip to Saudi Arabia. The parent or legal guardian can fill out another application on behalf of the child.
Saudi Arabia tourist eVisa on arrival
US citizens can also apply for Saudi Arabia tourist visas when they arrive at one of the country's entry points. You don't need many documents because the visa is issued while you are already in Saudi Arabia.
When you present your passport to the authorities, they will issue you a visa. You'll need to pay for the visa with a credit card.
Can I apply for a Saudi Arabia tourist visa at an embassy?
You can also apply for a Saudi tourist visa in person at the Saudi Embassy in the United States or through one of the Embassy's authorized travel agencies.
You can first check the visa requirements for Saudi Arabia at the Embassy's website
(https://www.saudiembassy.net/tourist-visa) and then either make an appointment or contact the agency.
Aside from the tourist eVisa, any other visa, such as a work visa or a study visa, can only be obtained from a Saudi Arabian embassy.
How long does it take to process a Saudi Arabian eVisa for US citizens?
When you apply online for a tourist visa, it usually takes 24 hours for your application to be processed. If the visa is approved, a copy will be sent to your email address within 1–5 days. It is also linked electronically to the registered passport.
When you get to Saudi Arabia, you have to show the local authorities both your eVisa and your passport. Make sure to print out the eVisa that was emailed to you and bring it with you as you travel through the country.
When you apply for a visa at an Embassy, it takes a little longer than when you apply online. Typically, applicants are notified of their application status within five days. But it can take longer than that.
We strongly advise that you submit your application for the visa well in advance, preferably at least a couple of weeks before the date that you plan to travel.
Will I be refunded if my tourist visa application is unsuccessful?
No. If your application is turned down, you will be told why and how long you have to submit an appeal. In any case, you can't get your money back for the visa fee.
How long is the Saudi eVisa valid for?
The validity of the eVisa is one year from the date it was issued. It allows visitors to spend up to 90 days in the country. Holders may enter the country at any time during the validity period.
Can I extend My Saudi Arabia Tourist Visa?
No, you cannot. The Saudi eVisa cannot be extended. When your one-year validity period expires, you will need to apply for a new tourist visa.
What are the other Saudi Arabia visa types?
There are different types of Saudi Arabia Visas, and each one serves a different purpose. The other Saudi visa types are:
Government Visa
Diplomatic & Official Visas
Diplomatic Missions & Organizations
Tourist Visa
Business Visit Visa
Employment Visa
Residence Visa
Premium Residency Visa
Newborn Visa
Extension of Exit/Re-Entry Visa
Family Visit Visa
Companion Visa
Personal Visit Visa
Hajj and Umrah Visa
Student Visa
What are the covid 19 requirements for US Citizens entering Saudi Arabia?
Like most countries, there is no requirement to provide a COVID-19 vaccination certificate or negative PCR certificate to enter the Kingdom of Saudi Arabia.
When is the best time to visit Saudi Arabia?
The answer to this question largely depends on your personal preferences, the location in the nation you'd like to visit, and the purpose of your trip. Given the size of the nation, temperature varies from region to region.
Coastal and inland regions of Saudi Arabia have notably different climates. However, the majority of the country experiences hot, dry summers. Winters, on the other hand, are mild with temperatures dropping at night.
During the summer months (April to October), the country experiences temperatures that are extremely hot and humid. The temperature averages between 40-45 °C(104°F-113°F), and can get as high as 49 °C (120°F) in some parts. As a result, getting around during this time can prove difficult.
The best time to travel to Saudi Arabia if you want to avoid the heat is between November to March. This is the time of year when the weather is mild and the temperature stays about the same. The weather is typically pleasant during these months, with daytime temperatures between 20°C and 30°C (68°F and 86°F) and cooler evenings. It's a great time to do things outside and visit places.
Closing thoughts
Saudi Arabia is home to a plethora of appealing tourist attractions. If you're from the US and want to visit the country soon, we hope this article has helped answer some of your questions about the visa application process and given you a better idea of what's needed.