Algeria Visa for US Citizens: Application Process & Requirements [2023]
In this post, we will go into the specifics of obtaining a visa for Algeria, outlining the necessary documentation, procedures, and relevant information that American citizens need to know.
Whether you are planning a short-term visit for tourism, business, or even considering a longer stay in this fascinating North African nation, understanding the visa process is crucial for a successful and enjoyable trip. The notion of planning a vacation to Algeria, the largest nation in Africa and a place with a diverse terrain, a long history, and a vibrant culture, is thrilling for American tourists.
However, in order to secure a straightforward and effortless entry into Algeria, it is important for Americans to be aware of the country's visa regulations prior to starting this journey. We will detail the specifics of acquiring an Algeria visa for US Citizens, outlining the necessary paperwork, steps, and crucial information Americans need to know.
Understanding the visa process is essential for a successful and pleasurable vacation, regardless of whether you are considering a longer stay or just a brief visit for leisure, business, or both in this intriguing North African country. Therefore, join us as we navigate the Algeria visa requirements for American citizens.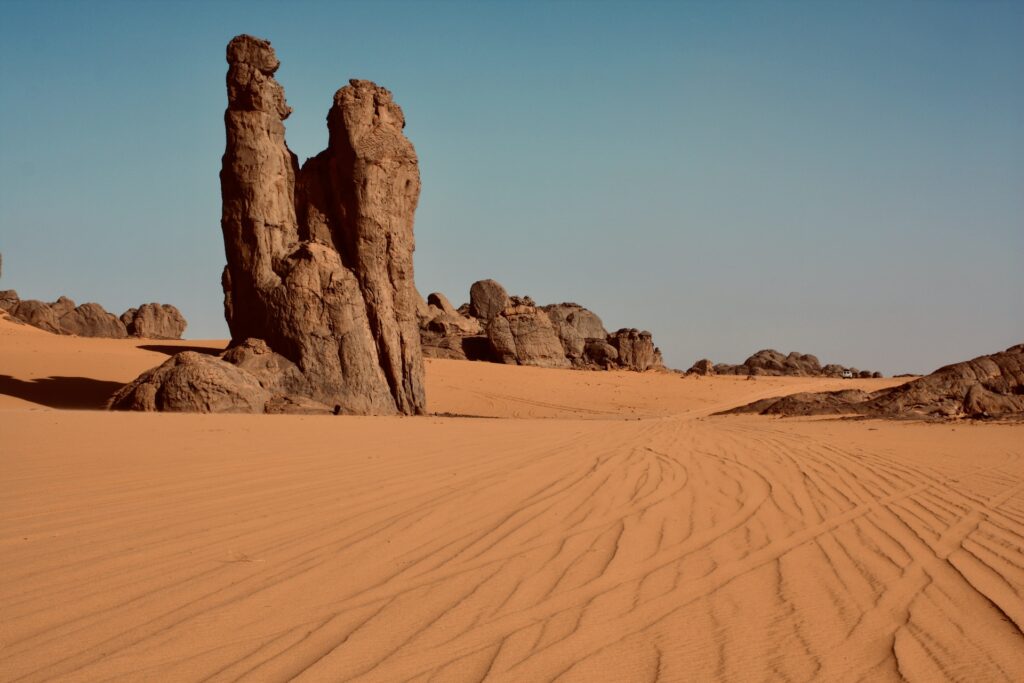 Do US Citizens Need a Visa to Visit Algeria
A visa is essential for U.S. citizens to enter Algeria. As per international travel protocols, U.S. citizens must secure an Algerian visa prior to their departure, affirming that they have satisfied all requisite formalities and are granted official permission to travel to this North African nation. This process involves the Algerian embassy or consulate reviewing the traveler's personal information, purpose of visit, and means of support during their stay.
Algeria Visa Requirements
Your original passport, which must still be valid after entering Algeria for at least another six months. It must contain at least one blank page where the visa can be attached.
Photocopies of the relevant pages from your passport
A filled-out and signed application for a visa to Algeria. The application form is available for download from the website of the consulate or embassy. Ensure the information is filled out legibly and clearly.
Two recent passport photos with white background
If you have an Algerian host, they can issue you with an invitation letter, or you can get one through a travel agency there. In Algeria, the invitation letter must be notarized at the municipal building or a public notary office.
Copy of your host's ID, passport or consular card (if applicable).
Proof of employment status: letter from your employer, company documents, if self-employed, etc.
Proof of financial means, in the form of bank statements or pay slips.
Reserved flight ticket or flight itinerary.
If you apply by mail, include a pre-paid, self-addressed envelope for the embassy/consulate to return your passport and documents.
If you apply by a proxy, include a notarized letter of authorization to apply on your behalf.
Proof of Algeria visa fee payment, as per the embassy/consulate's requirements.
Proof of address within the Consular jurisdiction (e.g valid Driver's License, Utility Bill, Bank or credit card statement, insurance policy or bill)
For Business visa:
Letter of invitation of your host company in Algeria.
Company's letter explaining the nature of business to be performed and full financial support.
USPS Money Order in the amount of US$ 160.00 made payable to the Embassy of Algeria for US citizens.
For Work visa:
USPS Money Order in the amount of US$ 190.00 made payable to the Embassy of Algeria for US citizens, for all other nationalities please contact us.

The following documents must be obtained from the Algerian Ministry of Labor
Work contract
Detailed list of foreign workers
Temporary work authorization
Commitment of repatriation
For Transit visa:
A transit visa is issued for a maximum of seven days.
Valid visa or passport of the country of final destination.
Evidence of financial means for the duration of stay.
USPS Money Order in the amount of US$ 160.00 made payable to the Embassy of Algeria for US citizens, for all other nationalities please contact us.
You can view the requirements for other visa types on the embassy website.
How to Apply for an Algeria Visa for US Citizens.
Determine the Appropriate Consulate: If you reside within the District of Columbia, or the States of North Carolina, South Carolina, Delaware, Maryland, Virginia, or West Virginia, you will apply for your visa through the Embassy of Algeria in Washington DC. If you reside in any other state, you should apply through the Consulate General in New York.
Check the Requirements: Visit the official website of the embassy or consulate for your region (https://algerianembassy.org/ for Washington DC or www.algeria-cgny.org for New York). Review the visa requirements to understand what documents and information you'll need for the application.
Prepare your Documents: Gather all necessary documents according to the list of requirements. This typically includes a valid passport, completed application form, passport-size photos, proof of accommodation in Algeria, and proof of sufficient funds for your stay.
Complete the Application Form: Download and fill out the visa application form from the relevant consulate or embassy's website. Ensure all the information is accurate and matches the details in your passport and other documents.
Submit your Application: Submit your completed application along with all the required documents to the appropriate consulate or embassy. If you hold a Diplomatic or Official passport, you may submit your application directly to the embassy office.
Pay the Visa Fee: There will likely be a visa application fee, so check the current instructions on the website for the amount and acceptable methods of payment.
Wait for Processing: Once you've submitted your application, wait for it to be processed. The processing time can vary, so it's best to apply well in advance of your planned travel dates.
Collect your Visa: If your visa application is approved, you'll need to collect your visa. The method for collection will depend on the instructions provided by the consulate or embassy.
Do children need a visa to visit Algeria
It is recommended that minors either have their own passports or be listed on their parents' passports. However, when a minor is applying for a visa to travel overseas on their own, one of the parents must do so on their behalf along with a travel authorization form that has been signed by both parents and notarized.
How long does it take a US citizen to get an Algerian Visa
The length of time it takes to process an Algerian visa varies depending on the type of visa you're seeking for, but it typically takes 10 to 20 working days
As we always advise, be sure to give yourself plenty of time before applying for your visa to avoid any surprises.
How long can a US citizen stay in Algeria with a visa
The duration of stay of an Algeria visa depends on the reason you are travelling. At each entry point into Algeria, a stay of no more than 90 days is permitted; however, under some circumstances, this period may be extended. Actual total stays are limited to 180 days annually.
Visas come in two varieties: single entry and multiple entry. While multiple entry visas are valid for two years, single entry visas are only good for 90 days.
Note that the duration of stay of the transit visa is 7 days.
Is there visa on arrival ?
Passengers wishing to visit certain cities of the south may qualify for a visa on arrival if this is organized by an approved travel agency. All other travelers must obtain a visa from an Algerian embassy or consulate in advance of travel
Types of Algerian Visa
Business Visa : Business visas are given to foreign citizens with visa requirements who are visiting Algeria for business purposes, such as entrepreneurs, corporate representatives, or employees of international firms.
Cultural Visa: Foreign nationals who wish to travel to Algeria to engage in research, attend a cultural, scientific, or sporting event will be granted a cultural visa.
Press Visa: which is issued to foreign journalists or media representatives.
Work Visa : Foreign people who have been given permission to work in Algeria on a long-term basis are given work visas.
Medical Visa: Foreign people who seek to enter Algeria in order to obtain medical treatment at an Algerian medical facility are granted a medical visa.
Transit Visa: A transit visa can only be obtained for a period of seven days for individuals going to a different location. A valid passport or visa for the final destination country is required to obtain this visa.
Student Visa: which is issued to a foreign national who wishes to pursue their studies in Algeria and has been accepted into an Algerian educational institution.
Diplomatic Visa: which is given to government representatives or diplomats who travel on official business and possess diplomatic, official, service, or UN laissez-passer passports.
Algeria Visa Fees
| Visa Type | Visa Fee |
| --- | --- |
| Tourism Visa | $160 |
| Business Visa | $160 |
| Family Visa | $160 |
| Cultural Visa | $190 |
| Press Visa | $160 |
| Work Visa | $190 |
| Medical Visa | $160 |
| Transit Visa | $160 |
| Student Visa | $160 |
| Diplomatic Visa | Free |
Can you Extend an Algeria Visa?
A visa for Algeria may be extended past the date of its initial issuance. A legitimate explanation and an invitation from a local Algerian are required when applying for an Algeria visa extension at the Foreigners' Office (Bureau des Étrangers) in Algeria at least 15 days before your current visa expires.
When you seek for the extension of your Algerian visa, the person who invited you must send you an invitation letter and accompany you.
What is the address of the Algeria embassy in the US
The Embassy of Algeria responsible for residents of District of Columbia, and the States of North Carolina, South Carolina, Delaware, Maryland and Virginia, West Virginia is located at:
2118 Kalorama Road NW,
Washington DC 20008.
For residents of all other U.S. states not covered by the Embassy of Algeria in Washington DC, the Consulate General of Algeria in New York is responsible. Its location is:
Consulate General of Algeria,
15 East 47th Street,
New York NY 10017
What are the Covid 19 Requirements
There are no COVID-19 restrictions in place for travel to Algeria from America
Travel Tips for US Citizens visiting Algeria
Security : Tourists in Algeria may encounter a variety of crimes, from minor theft to more serious cases like kidnapping. Due to these hazards, the Australian government recommends its nationals to stay away from travel within the bounds of the borders with Morocco, Libya, Tunisia, Mali, and Niger. Nevertheless, despite the constant threats, most visitors do not come into close contact with them. The reason for this is that the Algerian government has invested a sizable amount of resources in assuring the security of tourists. As a result, Algeria's overall violent crime rate is still quite low.
Food: American visitors can taste a wide variety of cuisine in Algeria. Don't forget to try authentic Algerian cuisine, including couscous, tagines, and merguez sausages. To avoid any potential risks to health, it is crucial to use caution when consuming street food and to make sure that all food is adequately cooked.
Currency: American travelers should be informed that the Algerian Dinar (DZD) is the official currency when visiting Algeria. It's a good idea to change your money into DZD at reputable banks or exchange offices when you arrive. Major hotels and restaurants in larger towns take credit cards, however it's advisable to carry cash for smaller businesses and rural locations where card acceptance may be limited.
It is crucial to be aware that homosexuality is illegal in Algeria if you identify as a member of the LGBTQ community. Public expressions of love between same-sex partners may draw unwanted attention and have legal repercussions. To guarantee a secure and pleasurable vacation, it's necessary to use caution and observe cultural norms in the destination country.
Closing Thoughts
As you plan your journey, we highly recommend visiting the official Algerian embassy website in the United States at https://algerianembassy.org/ or https://algeria-cgny.org, depending on your jurisdiction. This will allow you to stay informed about any recent changes or updates that may not have been addressed in this post.
If you enjoyed our Algeria Visa for US Citizens article, you may want to check out our Egypt Visa for US Citizens guide too.
We would like to conclude by wishing you safe travels and memorable experiences as you set off on your trip to Algeria. You may confidently traverse the visa application procedure and guarantee a simple entry into this fascinating North African nation by adhering to the instructions and conditions described in this article.
Do not forget to gather all required paperwork, give yourself enough time for processing, and ask for help if necessary. Pack your luggage, explore Algeria's attractions, and make experiences that will last a lifetime.