Kenya Visa for UK Citizens: Application Process & Requirements [2023]
Traveling overseas is a fantastic way to discover more about other cultures and can provide wonderful memories and experiences. Kenya is among the most distinctive and fascinating destinations available to UK Citizens due to its beauty and wildlife.
The relationship between Kenya and the United Kingdom is steeped in history and shared experiences, resonating with a richness that transcends the ordinary. As former British colonies, Kenya and the UK have walked similar historical paths, leading to a shared language and several common legal and political systems. But the intrigue of Kenya extends beyond this shared heritage. It's a country that amalgamates the wild, untamed beauty of nature with a vibrant and diverse cultural tapestry. From the breath-taking spectacle of the Great Wildebeest Migration in the Maasai Mara to the alluring tranquility of the Indian Ocean's beaches, Kenya is a land of contrasts that promises a unique and immersive experience for every UK citizen.
Lots of people who love adventure dream about going to Kenya. If you are from the United Kingdom (UK), understanding the rules for getting a 'Kenya Visa for UK Citizens' is really vital. It is a big part of making sure your trip goes well without any worries or unpleasant surprises. This article provides an all-inclusive guide to obtaining a Kenya visa for British Citizens who need it, how to apply, the necessary requirements, and much more.

The UK consists of 4 constituent countries, so this guide applies to Nationals of England, Scotland, Northern Ireland and Wales.
Without wasting much time, let's unravel the intricacies of procuring a Kenya Visa for UK citizens.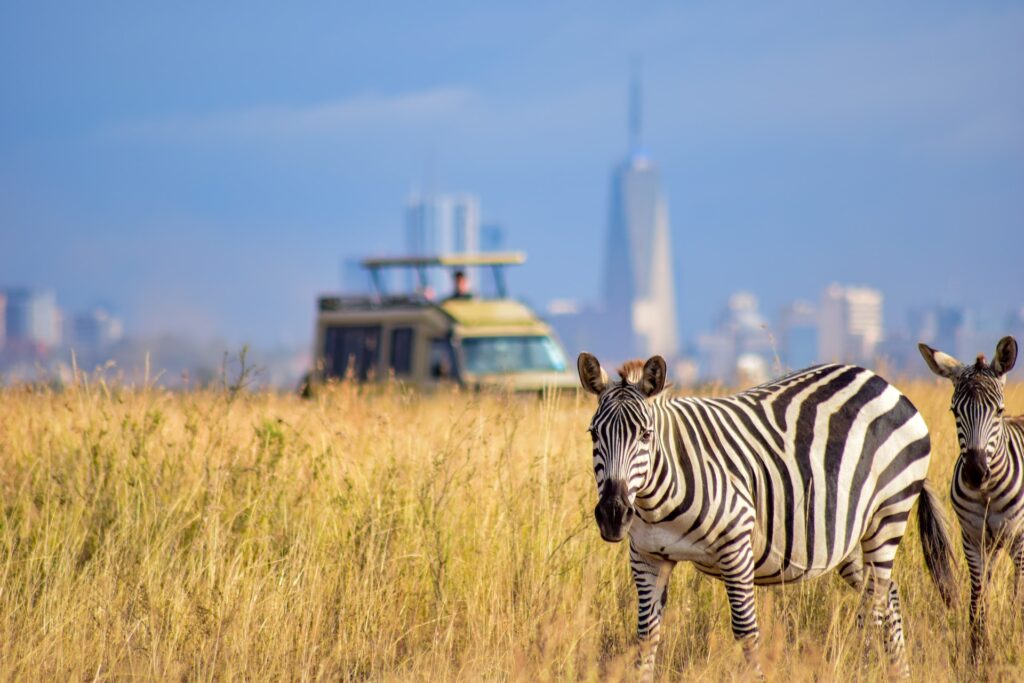 Do UK Citizens Need a Visa to Visit Kenya
Yes, if you are a UK citizen and intend to visit Kenya for leisure, business, or a family reunion, a visa is required for entry. This applies whether you are traveling by land, air, or sea.
Kenya Visa Application Requirements
Valid passport with at least six months validity
At least three blank pages in the holders passport.
Upload recent colour passport size photo with a clear background
Passport copy: A clean scan of your passport's information pages from a current, signed passport
Passport Front Cover: A clean photo or scan of your passport's front cover.
Digital passport photo: A photo that was taken within the last six months. If it complies with the requirements of a passport-type photograph, it may be taken with a cell phone against a white wall.
A copy of the hotel reservation or equivalent proof of lodging for the duration of the trip. The reservation must contain the applicant's name.
Return ticket
Itinerary: A copy of the tickets for the return trip or a comprehensive schedule for the entire journey.
Invitation letter from host
Employment contract
For business visits:
Invitation Letter from company / Invitation letter for business visits
Copy of registration or incorporation certificate of the company
Things to note:
All visa applications attract $1 service charge.
Visa processing fee is non-refundable.
Children under sixteen [16] years are exempted from visa payment.
How to apply for a Kenya Visa for UK Citizens
First of all, you will have to create an account on the Kenya e-visa portal www.evisa.go.ke.
make sure to have your passport number handy. Store your password in a safe place.

Once your account is created, you will be taken to the dashboard. It might be confusing at first because the portal serves for some other Kenyan national services. Do not fret. We are here to help.
Locate and click on "Directorate of Immigration Services (New Applications)" option. It should be the first option on the dashboard.

You will then be redirected to the "State Department of Immigration and Citizen Services" specific portal.
Click on the "eVisa Application" button and you will be taken to the eVisa application form. Make sure the read the Requirements for Kenyan Evisa on the page before clicking NEXT.
A special note on the page instructs that "Visa Processing Fee Is Non-Refundable" and you must "Print Visa Authority in Colour and Present It at the Point of Entry on Arrival".
The application process consists of several tabs, from "Application Information" to "Review Application".

You be asked for your information as you progress on each step.
If you're traveling with children, you'll need to provide their details, including names and passport numbers, in Step 5 of the application process.
Children under the age of 16 are exempt from visa fees. However, those aged 16 and above must pay the applicable visa fees.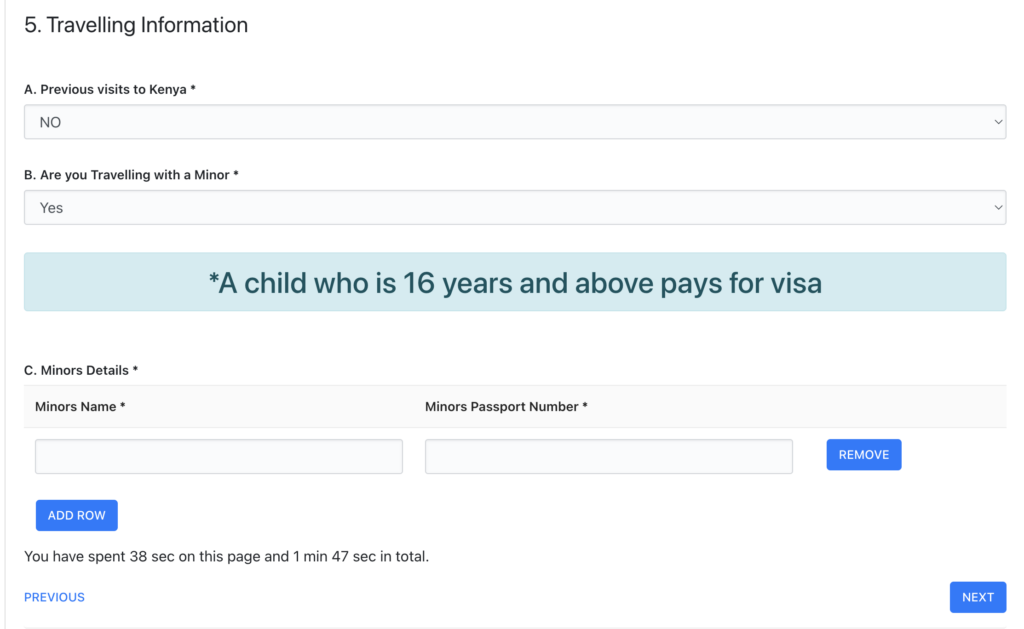 In Step 6, you will be asked to choose your Visa Type.
From Single Entry Visa to 5-Year Multiple Entry Visa, each comes with its own fee and restrictions. We have a table for their pricing further down this article.
Select the option suitable for you and proceed.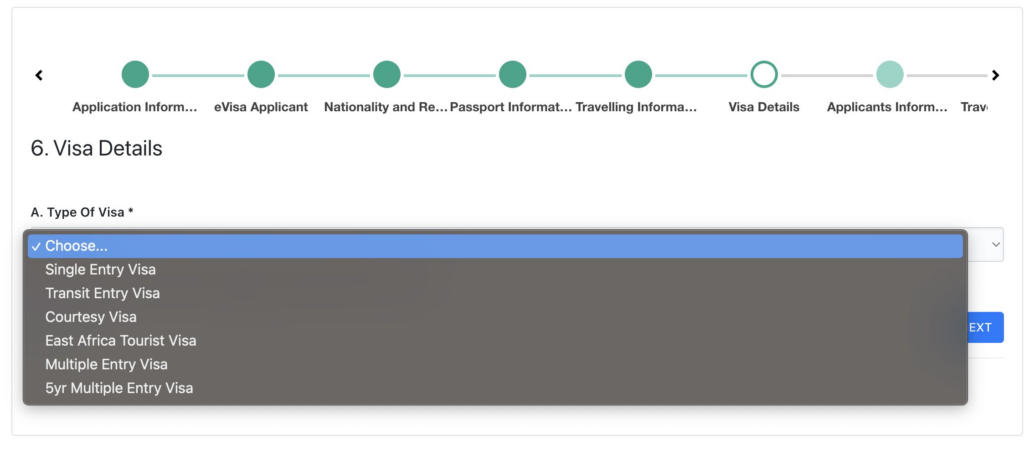 As you progress through each step, you will be asked for your personal information, your both parents basic details, your next of kin name and phone number.
You will be asked for your reason for wanting to travel to Kenya.
You will have the following options to choose from.
Tourism
Visit
Medical
Business
Work
Meetings / Workshop / Seminars / Training / Retreat
Resettlement
You will be asked for the details of your host. These includes their full names, address and contact details. Your host can be any of the following:
Hotel
Firm
Friend
Relative
Holiday Home/Apartment
Airbnb
Further more, there are fields for your proposed date of entry and departure, mode of entry (Air, Ship or Road) and point of entry.
The point of entry options are:
JKIA Nairobi
Wajir Airport
Wilson Airport Nairobi
MIA Mombasa
KIA Kisumu
Malindi Airport
Lamu Airport
EIA Eldoret
Garisa Airstrip
Lokichogio Airport
Isiolo Airport
Step 9 is more about your travel history. They're interested in your recent trips, any visa denials, and whether you've ever been convicted of a crime. Make sure to answer honestly.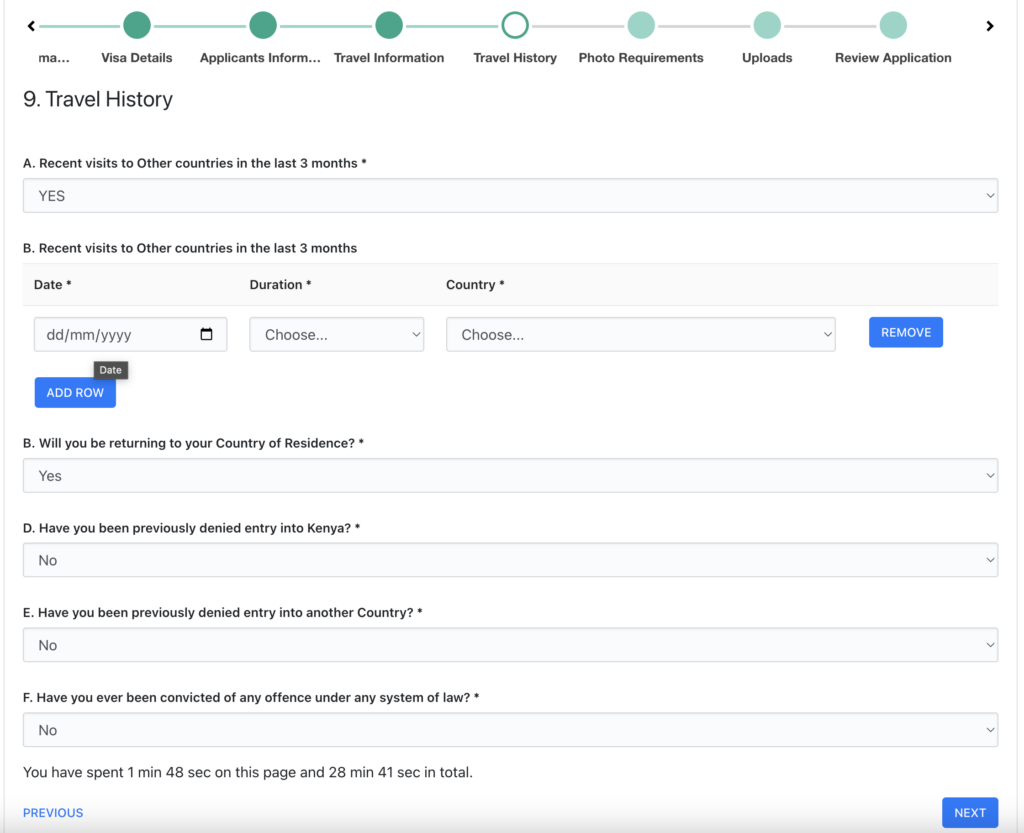 Further more, you will be asked to upload the following documents:
A. Recent Passport Size Photo *
B. Passport Front Cover *
C. Passport Bio-Data Page *
D. invitation Letter From The Host *
E. Employment Contract *
If you are travelling with minors:
F. Upload Minors Passport Bio-Data Page *
G. Upload Additional Document
The required format is a JPG image that doesn't exceed 293kb in size for each file. Personally, I find this size limit to be rather restrictive. You might need to use a photo resizer or compressor if your images surpass this size constraint.
Make sure to upload all the necessary documents to support your visa application.
Lastly, you will have the liberty to review your application for any errors or mistakes before swiping out your precious card and making payment for the visa fees.
The challenging part is now definitively over. You must now relax and wait for the processing of your Kenya visa. The processing of Category 2 visa takes upto 48 hours and the Category 3 Multiple entry visas and 5 year Multiple Entry are processed within 14 working days. Be sure you apply at least two weeks before your trip to avoid unpleasant suprises.
Once your Kenya eVisa has been approved, you'll get an email. Make sure to print out the email as soon as you receive it and to save a digital copy on your phone.
You are required to present a physical colored print out of your visa at the point of entry on your arrival to Kenya.
Requirements For Minors For Kenya Visa
eVisa is not required for children under the age of 16. Please remember to add any child under this age in your eVisa request if you are traveling with them. Their full name, passport number, and bio page photo are all information will be required.
Minors between the ages of 16 and 18 must obtain their own eVisa. In this instance, you can reference them in your application by including their names and passport numbers, but a separate application will be required for them. The criteria will be the same as those for adult applicants.
Kenya Visa fees
There are different fees depending on the type of visa applied for.
| Visa Type | Visa Fees |
| --- | --- |
| SINGLE ENTRY VISA + Service Charge | US$51.00 |
| TRANSIT ENTRY VISA + Service Charge | US$21.00 |
| COURTESY ENTRY VISA + Service Charge | US$0.00 |
| EAST AFRICAN TOURIST VISA + Service Charge | US$101.00 |
| MULTIPLE ENTRY VISA PROCESSING FEE + Service Charge | US$11.00 |
| MULTIPLE ENTRY VISA + Service Charge | US$101.00 |
| 5yr MULTIPLE ENTRY VISA + Service Charge | US$161.00 |
How long does it take to get a Kenyan visa?
Prior to entering the Republic of Kenya, a visa is necessary. At the port of entry, the printed e-Visa must be shown. Your eVisa should arrive in at least 2 working days. Kenyan visas are often issued under 48 hours.
The processing time can occasionally take up to 15 days, though. You are hereby advised to start your Kenya visa application 15 days prior to your trip. It gives you adequate time to make sure you have time in case your visa applications run into problems.
How long can a UK citizen stay in Kenya with a visa?
The duration of an UK citizen's Kenya visa is 90 days (3 months). By examining the issuance date on your Kenya visa, you may quickly determine whether your visa is still valid.
Visa Extensions
UK travelers visiting Kenya can request for an eVisa extension if they want to stick around longer. They must go to the Nairobi Immigration Headquarters to request an extension of their online visa permit, which would give them an additional 90 days to stay in the nation.
Types of Kenyan Visa
The Kenya Single Entry eVisa :The Kenya Single Entry eVisa allows you to travel to Kenya for 90 days. However, you can only enter Kenya once with this type of visa; therefore, "Single Entry
The Kenya Transit Visa: Foreign nationals can travel to Kenya using the Kenya Transit eVisa for brief visits. It is only given out to those who want to stick around while awaiting a connecting aircraft to a different nation.
Kenya Courtesy Visa: Only those with Service, Diplomatic, or Official passports are eligible for the Courtesy eVisa. Therefore, if you are performing official business, it will only be issued to certain passport holders.
Kenya Multiple Entry Visa :You can enter Kenya more than once with the Kenya Multiple Entry eVisa. You can enter, exit, and return multiple times, in contrast to the Single Entry eVisa.
East Africa Tourist Visa: The East Africa Tourist Visa is a joint visa for persons traveling to Kenya, Rwanda, and Uganda.
What are the Covid-19 Requirements?
Starting from May 9, 2023, the Kenyan government has dropped the mandate for either COVID-19 vaccination proof or a negative COVID-19 PCR test for entry into the country.
Considering these regulations, you can save your hard-earned money as COVID-19 tests are no longer a requirement for entry into Kenya.
Keep in mind, visitors exhibiting flu-like symptoms must take a rapid antigen test, which comes at a personal expense of 30 USD. If the antigen RDT result is positive, these individuals will be asked to undergo a PCR test costing 50 USD and to self-isolate following the Ministry of Health's isolation guidelines. Individuals with severe symptoms must adhere to the current isolation protocols for mild, moderate, and severe illness.
Travelers showing flu-like symptoms upon arrival in Kenya must complete a passenger locator form on the 'jitenge' platform: https://ears.health.go.ke/airline_registration/. They may also be required to take a rapid antigen test at their own expense, irrespective of age or vaccination status.
For comprehensive information on Kenya's entry regulations concerning COVID-19, refer to the Kenya Civil Aviation Authority's official website.
Is There Visa on Arrival?
No. Visas are no longer granted upon arrival in Kenya. The Kenya Visa on Arrival program has been suspended as of the end of 2020 and the Kenya government has also, just launched online tourist e-visa as part of its push to digitize its operations. To increase the security of Kenya's airports and significant public locations, the government is also implementing Airport Biometrics.
Is Kenya safe to travel for UK Citizens?
The UK government provides travel advice for its citizens through the Gov.uk website. It is recommended to check this resource for the most current information, as the situation can change due to various factors, including political stability, crime rates, and health risks such as COVID-19.
Generally, UK travellers to Kenya are advised to be cautious due to occasional political tensions, petty crime, and the risk of terrorism. These risks are higher in certain regions, such as near the Somali border.
Precautions such as avoiding unnecessary travel at night, keeping valuable items secure, and being aware of your surroundings can enhance your safety. It's also highly recommended to stay updated on health-related matters, including necessary vaccinations and precautions against malaria.
The Foreign, Commonwealth & Development Office (FCDO) advises against all but essential travel to:
areas within 60km of the Kenya-Somali border
Eastern Garissa County (up to 20km north-west of the A3)
Mandera County (excluding Mandera West sub-county)
Lamu County (excluding Lamu Island and Manda Island)
areas of Tana River County north of the Tana river itself (up to 20km north-west of the A3)
within 15km of the coast from the Tana river down to the Galana (Athi-Galana-Sabaki) river
Keep in mind that while Kenya is known for its natural beauty and wildlife, it's also a developing country with varying standards of infrastructure and health care outside of major cities.
Do not travel alone at night.
Do not show off expensive jewellery or devices.
Take enough money and keep it safe
Where is the Kenyan Embassy Located in England?
The Kenyan High Commission in the UK is located in London, the capital of England. The address is:
Kenyan High Commission,
45 Portland Pl, London W1B 1AS.
Fascinating Facts about Kenya
62 languages are spoken across Kenya. In addition to Kenya's two official languages of Swahili and English which are spoken at our partner schools, there are 62 other languages which are used by different ethnic groups across the country- including the Bantu and Nilotic languages.
Kenya is home to Africa's second-highest mountain
Mount Kenya is located in the Great Rift Valley, which is also the location of most partner schools in Kenya. It takes 4 to 5 days to ascend to the top of its 5199m height.
Kenya has 536 kilometres of coastline on the Indian Ocean
Closing thoughts
To wrap up, it's critical for British travellers to be well-versed in these Kenyan visa requirements discussed above for a smooth and delightful adventure.
By strictly following the guidelines presented in this piece, you'll ensure that your documentation is complete and meets all entry prerequisites.
Get a head start on preparations, consider applying online if possible, and commence your thrilling journey to Kenya with confidence.