Ubigi eSim Review: Is It Worth It? [2023]
You've probably come across the term "Ubigi eSIM" and wondered whether it could be the right choice for your mobile data needs. Well, you've landed in the right place. In this Ubigi eSIM review, we aim to provide an in-depth understanding of what the Ubigi eSIM offers and why it might be a great fit for you.
Ubigi is a provider of global cellular connectivity and eSIM services for a range of devices including smartphones, tablets, laptops, and connected cars. The company operates in over 190+ destinations offering affordable prepaid data plans.
As an early adopter and pioneer in the eSIM market, Ubigi has partnered with major tech companies like Apple and Microsoft, enabling eSIM support on iOS and Windows 10 devices. This ensures that travelers can stay connected wherever they go.
Ubigi is owned by Transatel, which is a brand dedicated to worldwide cellular connectivity for the Consumer Internet of Things. The company was founded 20 years ago and has since been committed to innovation in mobile services. Its headquarters is based in Paris, France, and it has a diverse team of 250 IT and telecom experts of more than 40 nationalities.
What is an eSim?
The world is fast changing and there are numerous inventions and innovations that we can barely keep up with.
In a groundbreaking development for mobile connectivity, eSIM technology is revolutionizing the way we use SIM cards. Rather than relying on physical cards, eSIMs are embedded directly into devices like smartphones, tablets, and smartwatches. These digital SIM cards, housed within a tiny chip, securely store all your mobile network information.
Bid farewell to the hassle of swapping SIM cards when switching network providers. With eSIMs, you can effortlessly activate, deactivate, or change subscriptions through simple software configurations accessible in your device's settings. This means no more fumbling with SIM card trays or worrying about losing those tiny chips. Your mobile connectivity is conveniently managed within your device.
How Does Ubigi Work?
Ubigi is a data-only eSIM provider that specializes in providing internet data services to your devices, wherever you are in the world. But how does it work?
First, check if your device is eSIM compatible. Many modern smartphones, tablets, and laptops now come with eSIM capabilities. If your device is compatible, you can simply download the Ubigi app, which will guide you through the setup process.
Once the Ubigi eSIM profile is installed on your device, you can purchase data plans directly through the Ubigi app, according to your needs. Whether you need a day pass for a quick business trip or a monthly plan for an extended stay abroad, Ubigi has got you covered.
The real beauty of Ubigi lies in its flexibility and convenience. You don't need to hunt down a physical store to buy a local SIM card every time you land in a new country. You can simply switch to the Ubigi eSIM profile on your device, purchase a data plan, and you're instantly connected, making Ubigi a true travel companion in the digital age.
Plus, since Ubigi is a data-only provider, it puts the focus on high-speed, reliable internet access. This means you can comfortably use VoIP services like Skype, WhatsApp, or FaceTime for your calls and messages, while Ubigi takes care of your internet needs.
Here are some key features of Ubigi's plans:
Data Packages: Ubigi provides data packages that allow customers to access the internet while traveling. These packages come in different sizes, ranging from a few hundred megabytes to several gigabytes, catering to various data requirements.
Validity Period: Ubigi's plans typically have a validity period, which means customers can use the data within a specified time frame. This ensures that travelers can make the most of their plan during their trip.
Easy Activation: Ubigi aims to provide a hassle-free experience for its customers. Activating a Ubigi plan is straightforward and can often be done online or through the Ubigi app. This means travelers can quickly get connected without wasting time searching for local SIM cards.
Multi-Country Usage: Ubigi's plans are designed to support usage across multiple countries. This is particularly useful for travelers who visit multiple destinations during their trips, as they can enjoy uninterrupted connectivity without the need for separate plans or SIM cards for each country.
Compatibility: Ubigi supports various devices, including smartphones, tablets, and even some IoT devices, allowing customers to stay connected across different devices during their travels.
Ubigi Coverage
Ubigi provides coverage in multiple countries around the world through partnerships with various mobile network operators. This allows Ubigi customers to access mobile networks in their destination countries without having to switch SIM cards or deal with the hassle of purchasing local SIM cards. Ubigi's coverage includes popular travel destinations across different continents, ensuring that customers can stay connected during their trips.
Ubigi eSIM covers 190+ countries and regions worldwide. Here are some of the most popular destinations:
Europe: Austria, Belgium, Bulgaria, Croatia, Cyprus, Czech Republic, Denmark, Estonia, Finland, France, Germany, Greece, Hungary, Iceland, Ireland, Italy, Latvia, Liechtenstein, Lithuania, Luxembourg, Malta, Netherlands, Norway, Poland, Portugal, Romania, Slovakia, Slovenia, Spain, Sweden, Switzerland, United Kingdom
North America: Canada, Mexico, United States
South America: Argentina, Brazil, Chile, Colombia, Ecuador, Guyana, Peru, Suriname, Uruguay, Venezuela
Central America: Belize, Costa Rica, El Salvador, Guatemala, Honduras, Nicaragua, Panama
Asia: China, Hong Kong, India, Indonesia, Japan, Malaysia, Mongolia, Myanmar, Nepal, Pakistan, Philippines, Singapore, South Korea, Sri Lanka, Taiwan, Thailand, Vietnam
Africa: Algeria, Angola, Benin, Botswana, Burkina Faso, Burundi, Cameroon, Cape Verde, Central African Republic, Chad, Comoros, Congo, Democratic Republic of the Congo, Djibouti, Egypt, Equatorial Guinea, Eritrea, Ethiopia, Gabon, Gambia, Ghana, Guinea, Guinea-Bissau, Kenya, Lesotho, Liberia, Libya, Madagascar, Malawi, Mali, Mauritania, Mauritius, Morocco, Mozambique, Namibia, Niger, Nigeria, Republic of the Congo, Rwanda, Sao Tome and Principe, Senegal, Seychelles, Sierra Leone, Somalia, South Africa, South Sudan, Sudan, Swaziland, Tanzania, Togo, Tunisia, Uganda, Zambia, Zimbabwe
Oceania: Australia, Fiji, New Zealand, Papua New Guinea, Solomon Islands, Vanuatu
Cost of Ubigi eSim & Plans
Getting an Ubigi eSim is free. However it costs money to subscribe to its data plans.
Ubigi pricing depends on the destination country. It can be cheap in certain countries and more expensive in some others. Certainly, this is due to the fact that they have to establish partnerships with local providers. The cost will inevitably vary, as each partnership can dictate different pricing terms.

Ubigi eSim data plans in the United States of America (USA)
In the United States of America (USA), Ubigi's eSim data plans offer a range of options to accommodate various data requirements. Their most affordable package is priced at just $2.9, providing 500MB of data, valid for a 1-day duration. This plan caters to users who require short-term, low-volume data access.
On the other hand, for those with high data demands, Ubigi has a plan costing $200 that delivers an impressive 200GB of data, valid for a period of 30 days. This plan caters to users with significant data needs, such as streaming, video conferencing, or downloading large amounts of data. A detailed breakdown of Ubigi's eSim data plan pricing for the USA is provided in the image below.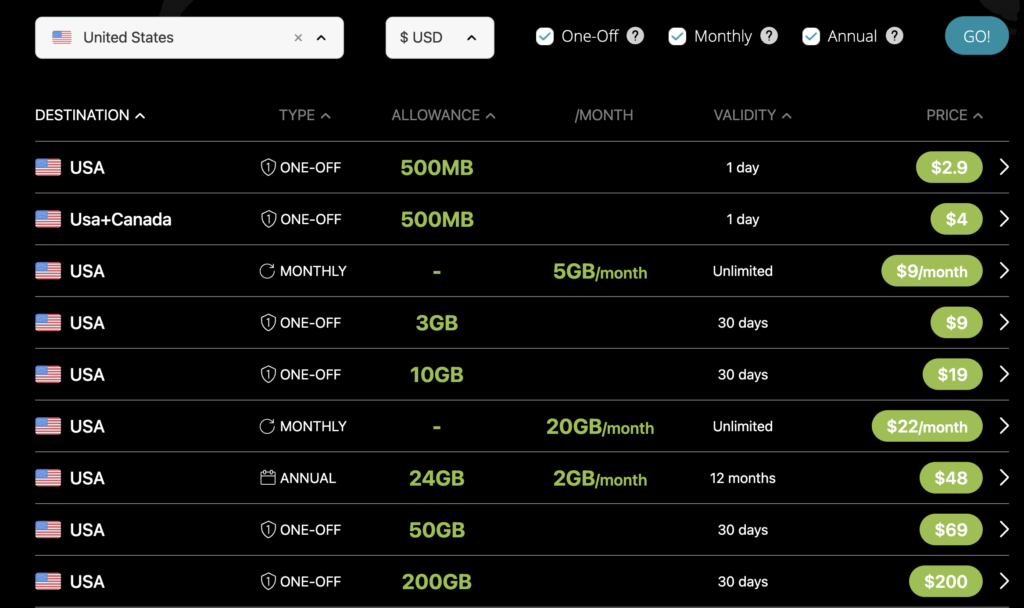 Ubigi eSim data plans in the United Kingdom (UK)
Ubigi has competitive data pricing options in the United Kingdom, tailored to suit a variety of data usage needs. The most affordable data plan starts from just $8, a price point that gets you 3GB of data usage, with a duration of 30 days from the time of activation. This plan offers reasonable value for users with light to moderate data needs, providing ample data for checking emails, surfing the web, and even light video streaming.
On the other end of the spectrum, Ubigi offers an annual data plan priced at $42. Unlike the 30-day plan, this one operates on a monthly data allocation model, where users are allocated 2GB of data every month for an entire year. This means users will have a steady supply of data month after month, making it an excellent choice for users who require consistent data access throughout the year.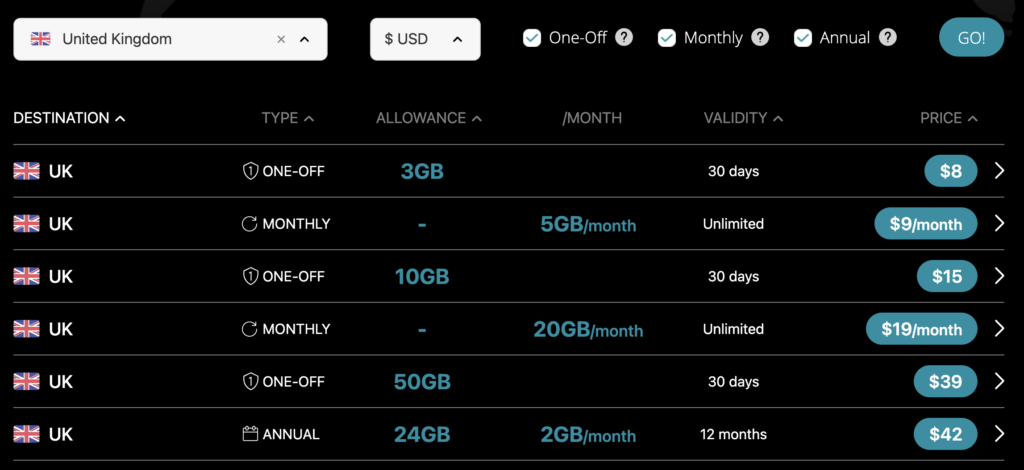 To understand the cost of Ubigi's services in your specific travel destination, you can visit their 'Data Coverage' page on their official website. This page provides comprehensive information on data coverage and pricing, allowing you to accurately determine the expected data costs for your upcoming travels.
How to Install Ubigi eSim?
Sure, here's a simple guide on how to install a Ubigi eSIM:
1. Purchase a Ubigi eSIM Plan:
First, you'll need to purchase a data plan from Ubigi. Visit the Ubigi website, choose the most suitable data plan for your needs, and complete the purchase.
2. Receive the eSIM Profile:
Once your purchase is complete, Ubigi will provide you with an eSIM profile. This will often be in the form of a QR code sent via email.
3. Install the eSIM on Your Device:
Next, you'll need to add the eSIM profile to your device. Here's how you do this on an iOS and Windows 10 device:
For iOS devices (iPhone XS and later):

Go to 'Settings' > 'Cellular'.
Tap 'Add Cellular Plan'.
Use your iPhone to scan the QR code provided by Ubigi.
If prompted, enter the confirmation code provided.

For Windows 10 devices:

Open 'Settings' > 'Network & Internet' > 'Cellular'.
Under 'Use this SIM for cellular data', select 'Add a new account'.
Scan the QR code provided by Ubigi.
4. Activate the eSIM:
After installing the eSIM profile, you may need to adjust your device settings to use the new data plan:
For iOS devices:

Go to 'Settings' > 'Cellular'.
Tap 'Cellular Plans' > [Your Ubigi eSIM].
Select 'Turn On This Line'.

For Windows 10 devices:

Go to 'Settings' > 'Network & Internet' > 'Cellular'.
Select the Ubigi eSIM and click 'Connect'.
Congratulations! You've successfully installed your Ubigi eSIM. You can now enjoy global cellular connectivity from your device.
Ubigi Pros & Cons
Like any eSIM provider, Ubigi has its own set of advantages and disadvantages. Here are some of the pros and cons associated with using Ubigi:
Pros of Ubigi
Convenience: Ubigi eSIMs are easy to purchase and install. You can do it all from your phone or computer, and you don't have to worry about waiting for a physical SIM card to arrive in the mail.
Affordability: Ubigi eSIMs are typically more affordable than traditional roaming plans. You can save money by buying a data plan that's specific to the country you're visiting.
Global coverage: Ubigi eSIMs work in over 190+ countries. So whether you're traveling for business or pleasure, you can always stay connected.
Flexibility: Ubigi eSIMs are flexible and can be used in multiple devices. So if you have multiple devices, you can easily switch between them without having to worry about changing SIM cards.
Customer support: Ubigi offers 24/7 customer support in multiple languages. So if you have any questions or problems, you can always get help.
Here are some additional pros of Ubigi eSIM:
You can share your data plan with other devices.
You can recharge your data plan if you need more data.
You can purchase and install your eSIM plan from the Ubigi app.
Overall, Ubigi eSIMs are a great option for travelers who want a convenient, affordable, and reliable way to stay connected while they're away from home.
Cons of Ubigi
Limited device support: Not all devices support eSIM technology yet. If you want to use an eSIM, you'll need to make sure your device is compatible.
No local phone number: Ubigi does not provide any mobile phone number because it is data only.
Data only – It is limited to data only. You cannot make standard calls but you can however make internet enabled calls with apps like Whatsapp, Facetime or even VOIP.
Is Ubigi Safe?
Yes, Ubigi is safe. Ubigi is a reliable and trusted eSIM provider. It is a subsidiary of Transatel, which in turn is part of the NTT Group, one of the world's largest telecommunications conglomerates. This association not only reinforces its credibility but also positions it as a strong player in the market. With Transatel's status as Europe's premier Mobile Virtual Network Operator (MVNO) enabler, you can trust Ubigi to provide high-quality and dependable service.
Is Ubigi Recommended?
We recommend the Ubigi eSIM for anyone in need of a versatile and reliable data solution. Its seamless integration into your device and the user-friendly app make managing your data plan remarkably simple, while the global coverage ensures you're connected wherever your travels take you. The Ubigi eSIM transforms the way we access the internet on the go, offering unprecedented flexibility and convenience. So, whether you're a frequent flyer, a digital nomad, or just someone who values a high-speed, dependable internet connection, the Ubigi eSIM could be a game-changer for you.
What are Customers Saying about Ubigi?
Ubigi customers have been very vocal about their experiences, reflecting in a strong Trustpilot rating of 4.4 out of 5 stars based on over 3900+ reviews. This rating suggests that the vast majority of Ubigi users have had positive experiences with the service.
While specific comments from customers vary, they generally appreciate Ubigi for its ease of use, reliability of service, and expansive coverage. Many customers find that Ubigi offers a straightforward and effective solution for their connectivity needs, especially while traveling internationally.
What are the alternatives to Ubigi eSim?
Some alternatives to Ubigi eSim include other eSim providers such as Airalo, Airhub, Holafly and Nomad.
Ubigi Frequently Asked Questions (FAQ)
How do I recharge my Ubigi eSIM?
Install Ubigi eSIM: Make sure you have installed the Ubigi eSIM profile on your compatible device. The eSIM profile is typically provided by Ubigi or your device manufacturer.
Access Ubigi Account: To recharge your Ubigi eSIM, you can either use the Ubigi mobile application or visit the web portal at ubigi.me. Choose the method that is most convenient for you.
Log in: Sign in to your Ubigi account using your registered credentials. If you don't have an account yet, you may need to create one by following the account registration process provided by Ubigi.
Recharge Data Plan: Once you are logged in, navigate to the option that allows you to recharge or add a data plan to your Ubigi eSIM. This option may be labeled differently depending on the Ubigi platform you are using.
Select a Data Plan: Choose the desired data plan that suits your needs. Ubigi typically offers a variety of data plan options with different data allowances and validity periods. Select the plan that best fits your requirements.
Purchase and Activation: Proceed with the purchase of the selected data plan. Follow the provided instructions to complete the payment process. Once the purchase is successful, your chosen data plan will be automatically activated on your Ubigi eSIM.
Start Using: After the data plan is activated, you can start using the services provided by Ubigi, including mobile connectivity and data access. Your Ubigi eSIM is now recharged and ready to use in accordance with the terms and conditions of the purchased data plan.
Is 5G available on Ubigi?
Yes, 5G connectivity is available through Ubigi. Known for high speed, ultra-connectivity, and low latency, 5G is compatible with various devices. Ubigi provides 5G connectivity on all Android and Windows 5G devices, and from iOS 16 onwards, Apple 5G devices will also be able to connect to the Ubigi 5G networks.
The Ubigi 5G network spans multiple countries through partnerships with various telecom providers. Here is the current list of countries where Ubigi 5G is available:
Austria (A1 Telekom), Belgium (Orange (Mobistar), Proximus), Brazil (TIM Brasil), Bulgaria (A1), Canada (Telus), Croatia (Vipnet), Czech Republic (O2 Czech Republic), Denmark (Telia), Estonia (EMT), Finland (Telia (Sonera)), France (SFR), Germany (Deutsche Telekom), Israel (Pelephone), Italy (WindTre), Japan (NTT DoCoMo), Lithuania (Telia Lituanie), Luxembourg (Orange), Netherlands (KPN), New Zealand (Spark), Norway (Telia), Poland (Orange), Portugal (Meo (TMN)), Singapore (StarHub), Slovakia (O2 Slovakia), Slovenia (A1), South Korea (SK Telecom), Spain (Orange), Sweden (Telia), Switzerland (Salt), Taiwan (Chunghwa), Turkey (Avea), UAE (Du), UK (EE), USA (T-Mobile), Vietnam (Viettel).
Tip: Do keep in mind that while on 5G, speed tests can consume a lot of data, so it's recommended to avoid them unless necessary.
Closing Thoughts
Ubigi, with its robust infrastructure and a parent company steeped in telecommunications excellence, has proven to be a reliable choice for eSim services. The diversity in its data plans, its vast coverage, and competitive pricing make it a compelling choice for travellers.
In the end, whether you find yourself sending a business email from a bustling city cafe, sharing pictures from a tranquil mountain peak, or streaming your favorite show in a cozy hotel room, remember that the world is at your fingertips. Stay connected, stay informed, and embrace the flexibility and freedom that eSim services like Ubigi offer. Here's to the journeys we've yet to embark on, and the connections we've yet to make. Stay tuned, stay wired, and explore on!